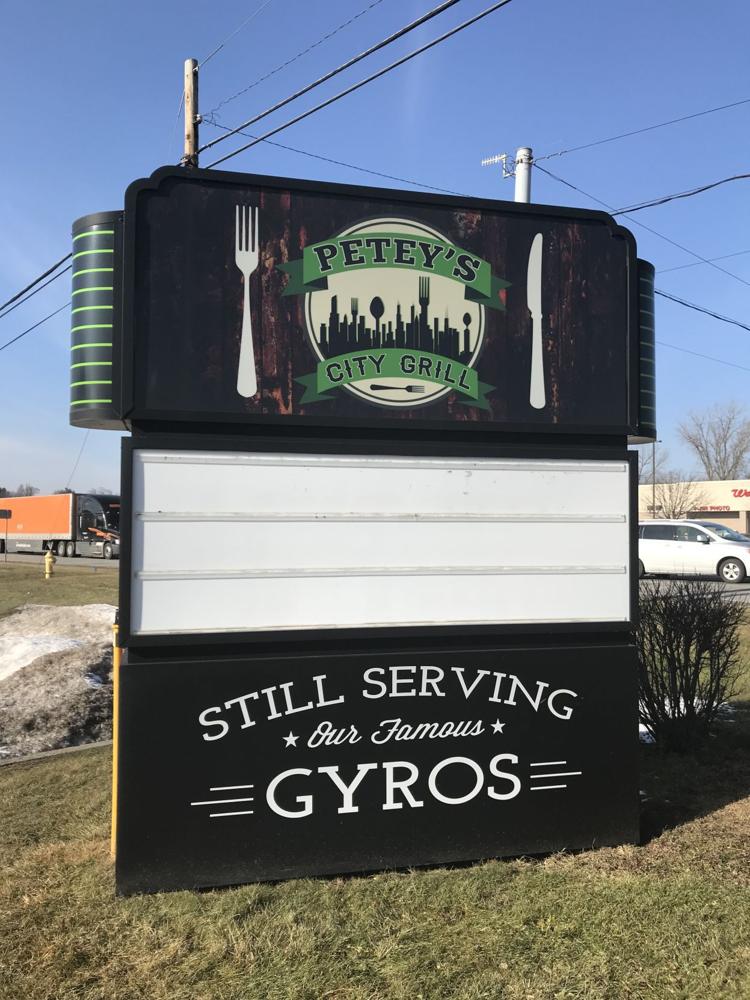 If you don't want to grow up and just want to be a Toys "R" Us kid, you'll have to do it in Hobart, home to the last remaining Toys "R" Us toy store in Northwest Indiana.
The New Jersey-based chain, which is closing more than 180 stores nationwide as part of a restructuring after filing for bankruptcy, shuttered its location at the Lighthouse Place Premium Outlets in Michigan City earlier this week.
The struggling toy and electronics retailer, which has been hobbled by e-commerce and mounting debt, said it was shuttering stores across the country that failed to meet its performance standards.
The only Toys "R" Us left in the Region is at 2020 E. Lincoln Highway in the Merrillville Plaza across from the Southlake Mall.
Petey's City Grill ended a 17-year run serving gyros on U.S. 30 in Valparaiso in December.
The gyros restaurant at 255 Morthland Drive, which delivered and had a drive-through, had the slogans "We're not just another Pretty Pita" and "You're all friends and family here."
In addition to "Petey's Famous Gyros," the restaurant served Chicago-syle dogs, Italian beef, patty melts, pork tenderloin and an "Avocado Grill" with items like an avocado bacon grilled cheese.
Founded in 2001, Petey's had a more modern look than most Region gyros joints and unique menu items like a Mac & Cheese burger, a grilled veggie pita, a pretzel bacon cheese dog, and My Big Fat Greek Burger.
"It is with a heavy heart, we are announcing after 17 years of serving the community, Petey's City Grill will be closing its doors for good," the owners said on Facebook. "To our dismay, the new owners of the strip mall have decided to replace us with a bigger box brand store. And we have been asked to relocate. However after, great thought, a personal decision to retire from the restaurant industry was concluded. It has been our pleasure, but more importantly our privilege to serve the NWI area for over 17 years."
Keep reading for FREE!
Enjoy more articles by signing up or logging in. No credit card required.
The Wholesome Cupboard, a Valparaiso specialty grocery store in a strip mall just down U.S. 30 from Petey's City Grill, also shuttered at the end of 2017.
"Valpo's Affordable Specialty Market" at 201-9 Morthland Drive carried locally produced food, imported cheeses, artisanal pop, vitamins, Himalayan salt products, essential oils and more. A registered nurse opened it in 2015 for people with special dietary restrictions, such as if they can't eat gluten or must watch their salt intake.
The Wholesome Cupboard carried an array of vegan, vegetarian, organic, non-GMO, low-carbohydrate and other healthy foods. Its expansive ethnic section include Italian, Thai, Asian, Indian, German, Irish, English, Serbian, Hispanic and Middle Eastern foods.
Planet Fitness, the gym chain known for its cheap prices, non-judgmental attitude and free pizza once a month, opened at 520 E. 81st Ave. in Merrillville.
The gym is the anchor in the new strip mall that replaced the popular Catch 22 restaurant on U.S. 30 in Merrillville, which will reopen in a smaller space at that site. The growing chain has other Region locations in Crown Point, Schererville, Hobart and Hammond.
Marketing to the casual "everyman" instead of bodybuilders and fitness fanatics, it entices customers by charging just $10 a month for memberships and offering freebies like free bagels.
The Merrillville gym is open from 12 a.m. to 9 p.m. Monday through Friday, and from 7 a.m. to 7 p.m. Saturday and Sunday.
Dunkin' Donuts opened a new coffee/donut shop at 328 W. 37th Ave. in New Chicago.
The Massachusetts-based chain, one of the largest fast-food franchises in the world by sheer number of locations, has 18 other restaurants in Lake County alone. It replaced a former Pizza Hut restaurant in New Chicago, where it's open from 4 a.m. to 10 p.m. Monday through Saturday, and from 5 a.m. to 9 p.m. Sunday.
The location has a drive-through, on-the-go mobile ordering and Dunkin' Donut K-Cup Pods and ground coffee available for retail sale.