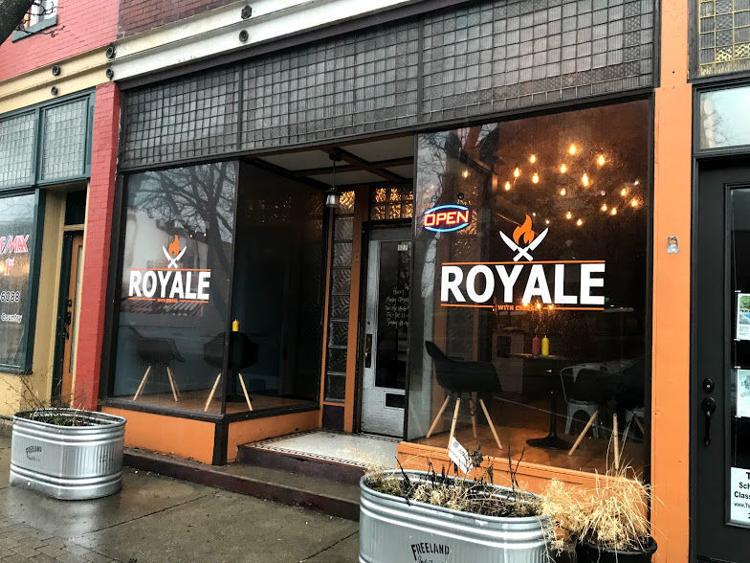 In one of the more famous, oft-quoted lines of dialogue in "Pulp Fiction," an exchange that helped cement Quentin Tarantino as a virtuoso screenwriter and cinematic auteur, the hitmen Vincent Vega and Jules Winnfield talked about Vincent's recent trip to Paris.
"And you know what they call a Quarter Pounder with Cheese in Paris?" asked Vincent, played by John Travolta.
"They don't call it a Quarter Pounder with cheese?" asked Jules, played by Samuel L. Jackson.
"No man, they got the metric system. They wouldn't know what a Quarter Pounder is."
"Then what do they call it?"
"They call it a Royale with cheese."
Royale with Cheese is the name of a hip new burger restaurant at 827 Franklin St. in downtown Michigan City that references the classic movie on its Facebook page. It's decorated with modern art, chalkboard menus, Edison lighting, exposed ducts and a deconstructed motorcycle that's hung up on the wall. There's a pop machine pouring Jones Soda, which is made in Seattle with pure cane sugar, the slogan "because big soda sucks," and features idiosyncratic flavors like Green Apple, Blue Bubble Gum, Fufu Berry, Strawberry Lime and Bacon.
The restaurant serves big beefy burgers with weekly specials — dubbed Bob's Burgers after the cult TV show — like the "Jack-O-Lentil" with goat cheese, baby spinach and lentils; "Hit me with your Best Shallot," with shallots, arugula and goat cheese; the "Sweaty Palms Burger" with Parmesan, spicy hearts of palm and artichoke Tapenade; and the "If Looks Could Kale Burger" with Gruyere cheese, rosemary tomato orzo and, of course, kale.
The menu includes salads, sandwiches, elote it calls "street corn," bourbon-battered onion rings and "ghetto fries" with nacho cheese, beef, sour cream and jalapenos. Burgers include a chorizo-blend Mexican Burger with chipotle mayo, a Caprese Burger and a Pina Burger with pineapple. The namesake Royale Burger is an In and Out-style burger.
The place has a sense of humor — the menu description of fresh cut fries, for instance, is "you know what these are."
Royale with Cheese, nestled in the heart of Michigan City's Uptown Arts District, also is working to set up a coffee bar.
Register for more free articles.
Stay logged in to skip the surveys.
The restaurant is open from 11 a.m. through 8 p.m. Monday through Thursday, 11 a.m. through 9 p.m. Friday and Saturday and from 11 a.m. through 4 p.m. Sunday.
For more information, call 219-243-7106.
The Mama Pearl's BBQ Restaurant, Banquets and Catering in downtown Gary closed in December after a run of several years.
The barbecue and soul food restaurant shared the building at 411 E. 5th Ave. across from U.S. Steel Yard with the ArtHouse: A Social Kitchen culinary incubator and cultural events space.
Named after the late Pearl Mason, who died last year at the age of 105, the southern-themed eatery was known for its ribs, rib tips, catfish nuggets, shrimp, chicken, sweet potatoes, cornbread, coleslaw, macaroni and cheese, collard greens and pinto beans. It's one of the latest of a string of restaurants meant to capitalize on the Gary SouthShore Railcats traffic that have closed in downtown Gary, including Bennigan's, Dustie's Southern Style Buffet and the Stadium Buffet and Grill.
The Zuchez Restaurant and Bar at 211 N. Broad St. closed after a short stint as an eatery and nightclub in downtown Griffith.
The phone number is disconnected, the Facebook page and website have been taken down, and the building has been closed, though signs posted on the doors and windows looking for employees indicate the owners or new owners may be looking to reopen the space with a new Las Vegas concept.
The owners, who could not be reached for comment, had hoped the 260-person establishment would "bring date night back to the Region" when they opened last fall. Zuchez had live bands and weekend dance nights with country, salsa, merengue and house music.
In addition to being a nightclub, Zuchez offered everything from breakfast to dinner.
Online reviews were generally harsh, with customers complaining about prices, quality and service on websites like Yelp.