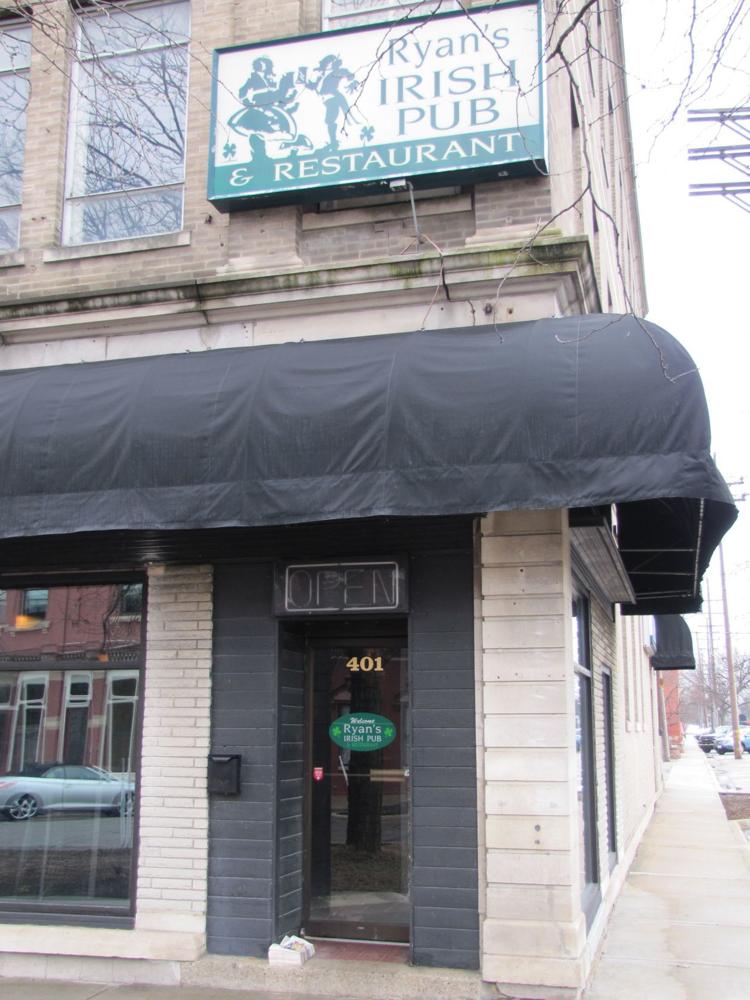 Throw an Irish wake for Ryan's Irish Pub in downtown Michigan City, which recently closed.
The owners posted on Facebook that they had sold the establishment, which had been open for 23 years.
No further details were available, and the pub's phone number was disconnected. Michigan City Mayor Ron Meer said a developer hopes to redevelop the entire property to make way for new commercial businesses and residential units.
The dark and smoky bar at the north end of Michigan City's Uptown Arts District was known for its fish and chips, burgers and other pub fare. It drew crowds for its open mic nights and to its outdoor patio in the summer, where diners and drinkers could feel a gentle lake breeze, and was, of course, a popular destination after the lakefront city's St. Patrick's Day Parade.
Uptown Cafe, the longtime coffee shop on Lincolnway near the Valparaiso University campus, opened the drive-through at its eagerly awaited Crown Point satellite location for a trial run last week.
At first, customers could only get drinks at the coffee shop at 10641 Broadway in Crown Point. The beloved local coffee shop sells several varieties of coffee, espresso drinks, handcrafted sodas and specialty drinks, such as a Matcha Libre matcha tea latte and an espresso drink that tastes like a cinnamon roll.
The Valparaiso cafe also serves a menu of light bites such as avocado toast, lox, hummus and caprese, but the Crown Point location is still ramping up operations.
New owners have acquired the former Marquette Perk building at 900 N. Shelby St. in Gary's lakefront Miller neighborhood, and hope to lease it to someone who will operate it as a coffee shop/bakery.
Zygmunt Dyracz and Lela Headd Dyrkacz, who own the acclaimed Chopin Theatre in Chicago's trendy Wicker Park neighborhood, want to see the 1,400-square-foot building a few blocks from the beach become a community gathering place again. They moved from Chicago to Miller in search of some quiet after having kids.
You have free articles remaining.
Keep reading for FREE!
Enjoy more articles by signing up or logging in. No credit card required.
"It's in the heart of Miller Beach two blocks from the beach," he said. "It used to be a place for people to mingle and talk to each other. We'd like it to be a community gathering place for people to meet and connect."
Most recently, the property hosted Ben's Bodacious Barbecue and Deli and the Wonderland Stained Glass studio, until the married couple that owned the businesses died in a murder-suicide last year.
The Dyrkaczs hope it could again be a breakfast spot for Chicago commuters and locals, and a place for evening dining and entertainment, possibly a piano bar or cabaret. They also would love to see any new business that opens there incorporate a small grocery section that would carry necessities like fresh baked bread, milk, eggs and wines for neighborhood residents.
Anyone who's interested in the property should call 773-396-2875 or 773-814-5352.
Kristine Johnson, a licensed cosmetologist with 20 years experience and the owner of Eyelashes Extensions by Kristine, a home-based studio in Griffith, launched Micropigmentation by K 2.0, which offers permanent cosmetic procedures that essentially tattoo makeup on lips or eyebrows.
"Why would you want permanent makeup?" she said. "Well, how much time would you save every morning if you didn't fiddle with makeup? What if you are visually impaired, would it be easier for you each day? Shaky hands? Work out and sweat a lot? No problem, permanent makeup stays perfectly in place. There are many reasons why it could make your day better and easier."
The business at 402 Miller St. is open by appointment only. Services include permanent eyebrows, eyeliner, microshading and tattoo lightening.
"I'm very passionate about what I do and I would love to share this passion with the community," she said. "I pride myself on education and ongoing training."
For more information, call 219-743-9077.