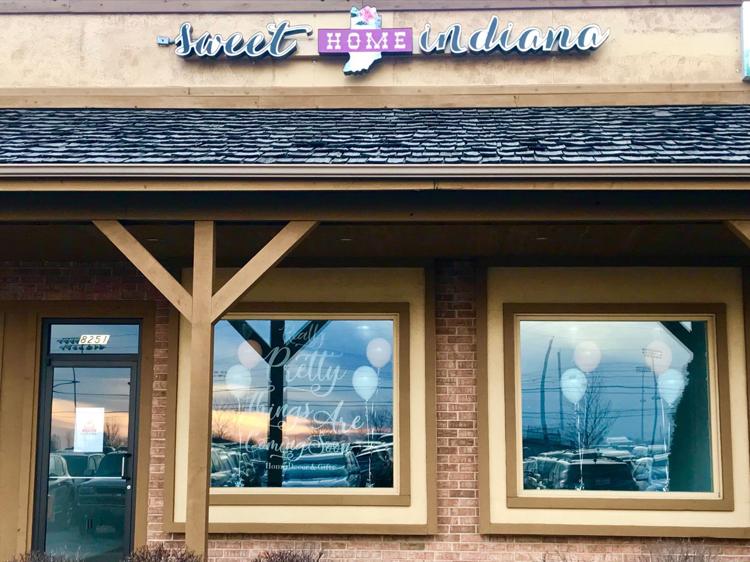 A corporate refugee who wanted to strike out on her own started Sweet Home Indiana Home Decor and Gifts, which opens on April 28 at 8251 Wicker Ave. in St. John.
Lora Avecillas and her husband, John Matuska, decided to open the 1,200-square-foot home decor and gift shop in Lake Central Plaza across from Lake Central High School out of a love for visiting quaint shops and hunting for treasures while traveling.
Sweet Home Indiana carries many products in the country farmhouse, vintage, industrial and garden styles. It stocks jewelry, candles, stationery, clocks, handcrafted items, accent furniture and stuff for man caves, such as beer-infused soap. The shop has gifts for many occasions, including baby showers, weddings and holidays.
"I was in the corporate world for so long, and I just saw the opportunity for a home decor store in St. John with so many homes going up," she said. "I was tired of working 14-hour days and thought about what my passion was. I like traveling and visiting cute little shops, and there was nothing like that here."
She was inspired by stores like The Found Cottage outside Grand Rapids, Michigan, and the popular reality show "Fixer Upper," which recently ended its run.
"Joanna Gaines is the reason we have a store," she said.
Avecillas hopes eventually to expand the shop, hire more employees beyond family and get into online sales. For now, the focus is on providing as pleasant a shopping experience as possible.
"We're very down-to-earth," she said. "We want to make sure people have an experience. There's a nice atmosphere. We want people to come stay awhile. We'll have coffee, drinks, water, lemonade and cookies. We'll have music, candles and a nice smell."
She thinks such a store will thrive in St. John, where the population has grown by more than 12 percent since 2000 and has gotten an influx of new residents who have decamped from Illinois.
"St. John is a wonderful place," he said. "We came out here, built out here and we loved it."
Sweet Home Indiana is open from 10 a.m. to 7 p.m. Tuesday and Thursday, and from 10 a.m. to 6 p.m. Wednesday, Friday and Saturday.
For more information, find it on Facebook or call 219-627-3061.
The Simple Greek, a fast-casual Greek restaurant that lets customers customize pita or bowl orders, will open its long-awaited Munster location in the new Centennial Village shopping center Monday.
"It's been an enormous amount of work and planning, however, being this close to launching this restaurant, we find that we're most excited to finally have a great team of people ready to serve a great community of people," owner Adam Robertson said.
The restaurant at 9611 Calumet Ave. in Munster offers gyros, chicken gyros, chicken or steak that can be topped with hummus, tzatziki, olive oil, feta and your choice of fresh vegetables. It also has traditional dessert options like baklava.
The Simple Greek will be open from 11 a.m. to 9 p.m. seven days a week.
U-Haul added two more Calumet Region dealerships in Gary and Chicago Heights.
Gary Discount Motors at 1429 W. 11th Ave. in Gary and Country Squire Foods at 113 W. Joe Orr Road in Chicago Heights opened dealerships that rent out U-Haul trucks and trailers.
They will let movers borrow U-Haul trucks and towing equipment, and purchase moving supplies and boxes. People with smartphones can use the service around the clock, picking up or returning a truck at any hour day or night.
The Gary dealership is open for normal business hours from 10 a.m. through 4:30 p.m. Monday to Friday, and 10 a.m. through 1 p.m. Saturday. The Chicago Heights location is open from 8 a.m. to 9 p.m. Monday through Friday, 8 a.m. to 7 p.m. Saturday and 8 a.m. to 6 p.m.
If you've got tips about new stores or restaurants anywhere in the Region, or just wonder what's under construction somewhere, contact NWI Business Ins and Outs columnist Joseph S. Pete at joseph.pete@nwi.com or 219.933.3316.