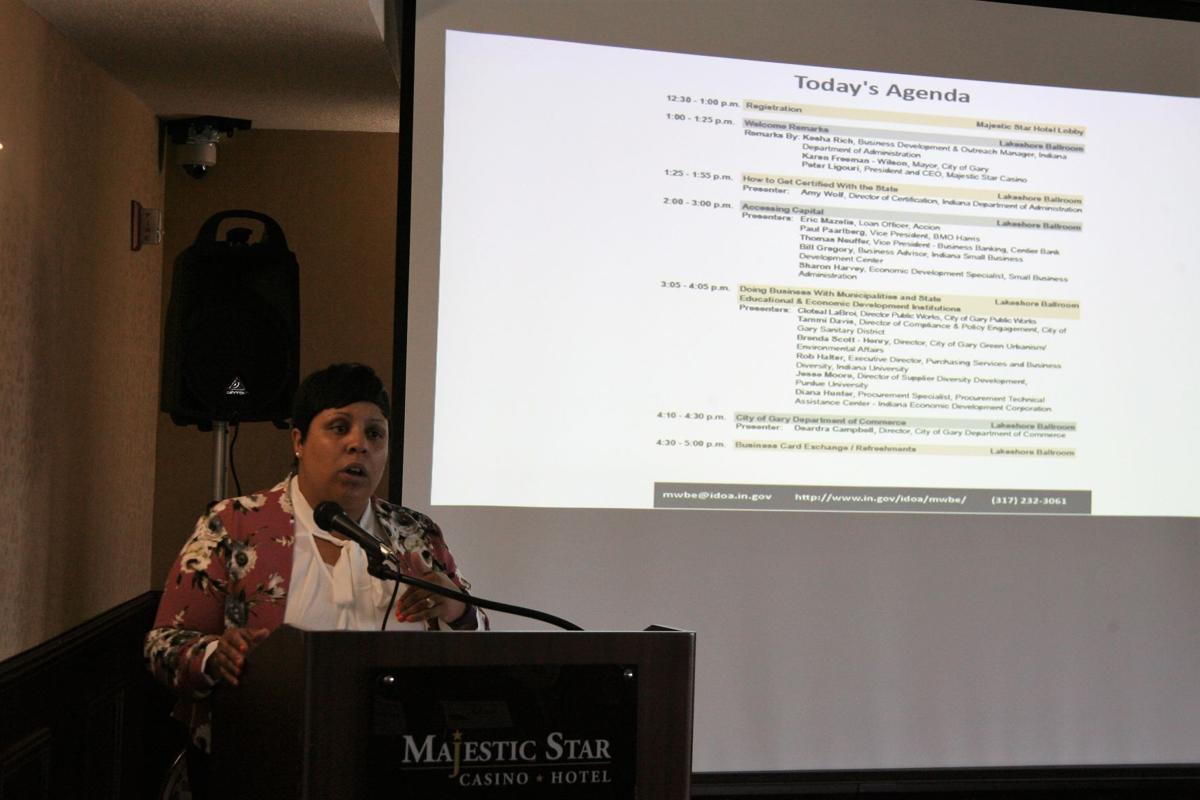 GARY — Darlene Moore attended the Northwest Indiana Business Conference on Thursday with a goal of finding resources so she could set her recently launched non-emergency transportation company on a path to success. 
Moore, owner of Gary-based Moore Transportation, achieved that goal when she met Diana Hunter, a procurement specialist at the Crown Point-based Procurement Technical Assistance Center, sponsored by the Indiana Economic Development Corp. 
Moore said she wanted "to get information on the various aids to minority businesses and how they can help my business and my community."
Hunter's job is to connect small businesses with local, state and federal government contracts.
"These businesses are looking for added sales, along with marketing to the government," Hunter said. 
Hunter was a panelist at Thursday's conference presented by the Indiana Department of Administration's Division of Supplier Diversity, held at Majestic Star Hotel. The conference was the third of four regional programs presented statewide.
Kesha Rich, business development and outreach manager for IDOA, said the state department wants to provide women and minority business owners with free tools.
The conference, she noted, offered information on accessing capital and doing business with municipalities and state educational and economic development institutions. The afternoon program provided panel discussions related to those topics, with government and business leaders attending.
"These people are looking for opportunities," Chuck Hughes, executive director of the Gary Chamber of Commerce, said of attendees. Such conferences, he continued, are in line with efforts of local businesses and government to grow and attract local commerce.
Gary Mayor Karen Freeman-Wilson, fresh from a beach cleanup, cited the "ability to promote, grow, and develop business in Gary. … I'm excited about what is going on here."
The venue has hosted the conference since 2013. Peter Ligouri, president and CEO of Majestic Star Casino and Hotel, praised the 100 people who registered for the conference, pointing out his company's commitment to supporting minority- and women-owned businesses.
Ligouri, whose father started a small business at age 40, said the casino and hotel spend $20 million annually on vendors outside Gary, noting his desire to reduce that number and work with more local merchants.
Panelist Eric Mazelis offered this advice to business owners: Plan ahead financially.
"It's important to think about finances, including loans, before you run into a financial crunch," said Mazelis, a loan officer with Accion, a nonprofit small-business lender. "Someone may be good at what they do, but they don't plan ahead. You need an understanding of finances."
The conference began with a presentation on the state certification process by Amy Wolf, director of certification for IDOA. Becoming registered with the state is a marketing tool, she said, offering access to potential state contracts.
While some attendees were new to state connections, others, such as H&D Landscaping of Hammond, are already state-certified.
"I came to network," said H&D owner Daphne Dixon. "I need to make connections with companies that may need subcontractors."