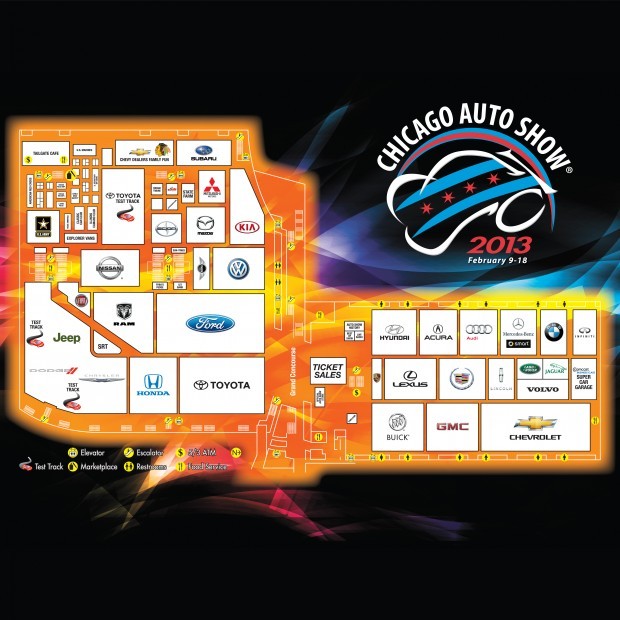 The 2013 Chicago Auto Show: If you go
What: First staged in 1901, the Chicago Auto Show is the largest auto show in North America and has taken place more times than any other auto exposition on the continent. This year marks the 105th edition of the Chicago Auto Show. The Auto Show is produced by the Chicago Automobile Trade Association, or CATA, which is the nation's oldest and largest metropolitan dealer organization. CATA has produced the Chicago Auto Show since 1935.
Exhibits: Multiple world and North American introductions. Complete range of domestic and imported passenger cars and trucks; sport utility vehicles, experimental and concept cars. In total, nearly 1,000 different vehicles will be on display, as well as numerous accessories and auto-related exhibits, competition vehicles, project, antique and project, antique and collector cars.
When: Saturday, Feb. 9 through Monday, Feb. 18
Where: McCormick Place, 2301 South Martin Luther King Drive (Lake Shore Drive at 23rd Street,) Chicago. The Chicago Auto Show spans more than 1 million square feet of the McCormick Place complex. 
Hours: 10 a.m. to 10 p.m. (closing at 8 p.m. on Feb. 18)
Admission: Available at McCormick Place ticket booths or at https://tickets.drivechicago.com. The box office closes one hour prior to the end of the show each day.
Cost: $12 for adults; $6 for seniors ages 62 and older; $6 for children ages 7-12. Free admission for children 6 and younger when they accompany a paying adult. Family members only. Weekday discount tickets ($6 off the regular adult admission) available at various area new-car dealers. Participating banks also mail the discount tickets to their account holders. School and group discounts available. 
Feb. 12: Women's Day. Women admitted for $6. Manufacturers will present special women-oriented programs on the purchase and lease of cars and maintenance.
Feb. 13-15: Chicago Auto Show Food Drive. Show patrons who bring three cans of food, which will be donated to A Safe Haven Foundation, will receive a coupon for $6 admission.
Appearances are scheduled by sports, radio, TV and screen personalities. Check events schedule online at for up-to-date listings: 
Getting to McCormick Place
Via the Skyway: Take the Indiana Toll Road (I-90) west to the Chicago Skyway to the local traffic lanes of the Dan Ryan Expressway (I-94 west) to the Stevenson Expressway (I-55) north to Lake Shore Drive South and follow the signs to McCormick Place.
Via Interstate 80/94: Exit I-80/I-94 on the Bishop Ford Expressway and proceed to the Dan Ryan Expressway (I-94 West) to the Stevenson Expressway (I-55) north to Lake Shore Drive South, and follow the signs to McCormick Place.
McCormick Place offers on-site parking for $21 per day in Lots A and C and for $14 in Lot B. All lots are $10 after 6 p.m.. On Saturdays and Sundays only, show-goers can park offsite at Millennium Park Garage for $16 and ride free shuttles to the show.
Millennium Park Garage: The entrance is on South Columbus Drive between Monroe Street (from the south, heading north) and Randolph Street (from the north, heading south).
Free shuttles also stop in 10-15 minute intervals at both the Upper Randolph / Lower Randolph pedestrian exits. For more information, visit www.millenniumgarages.com .
Accessibility: Extensive shuttle bus service from all area parking lots to and from McCormick Place. Weekend-only shuttle service from the Millennium Park and East Monroe underground garages. Shuttles stop in 10-15 minute intervals near Columbus/Upper and Lower Randolph and at Gate 3 at McCormick Place.
Scooter and Wheelchair rentals are available by contacting Scootaround's toll-free hotline at (888) 441-7575. You can also submit a rental inquiry on the web at http://www.scootaround.com/rentals/c/chicagoautoshow/ , or by fax at (204) 478-1172. Scooter rentals are $50 a day and wheelchair rentals are $20 a day. Scootaround is located at Gate 4 of McCormick Place (west end of the Grand Concourse).
The Northern Indiana Commuter Transportation District's South Shore line normally serves the McCormick Place station only on weekends. However, during the Auto Show, special weekday train service will be provided.
Train schedule: Monday through Friday
| | |
| --- | --- |
| Train number | Arrives at McCormick Place |
| 14 | 10:15 a.m |
| 214 | 11:02 a.m. |
| 116 | 12:29 p.m. |
| 216  | 1:11 p.m. |
| 18 | 2:15 p.m. |
| 118 |  4:06 p.m |
| 218  |  5:24 p.m. |
| 20 | 6:22 p.m |
| | |
| --- | --- |
| Train number | Departs from McCormick Place |
| 109 | 2:43 p.m. |
| 209  | 3:23 p.m. |
| 11 | 4:10 p.m. |
| 117  | 6:06 p.m. |
| 19 | 7:18 p.m. |
| 119 | 8:48 p.m. |
| 121 | 11:08 p.m. |
Note: Eastbound trains 109, 117, 119 and 121 terminate in Michigan City. Train 209 terminates at Gary Metro Center. Trains 11 and 19 terminate in South Bend.
All weekend trains except 601 serve McCormick Place as a flag stop. Westbound passengers should notify the conductor they intend to exit the train at McCormick Place. Eastbound passengers at the McCormick Place station should stand on the platform in clear view of the train engineer.