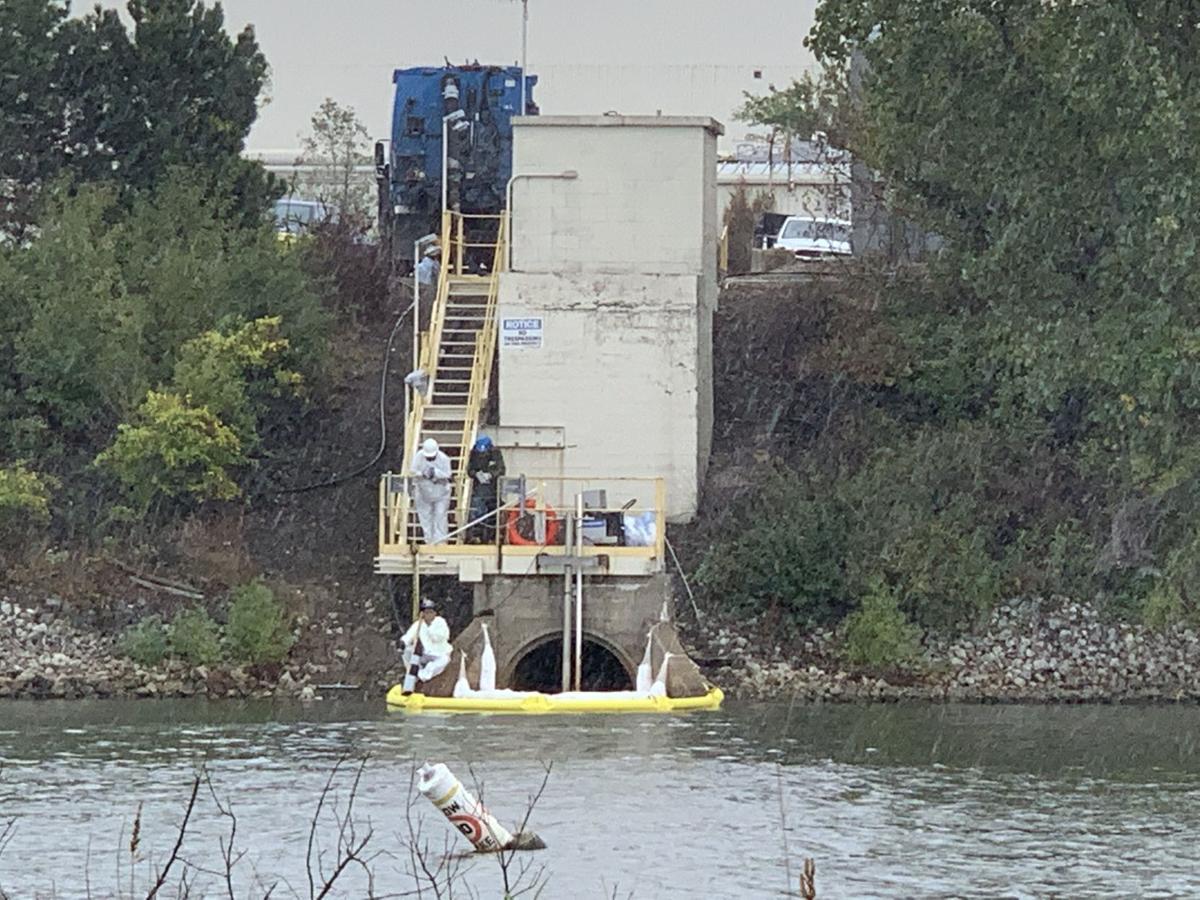 PORTAGE — The Indiana Department of Environmental Management said while booms contained most of the oil sheen discharged Thursday morning from the local U.S. Steel Midwest plant, some did escape further out into waterway that feeds into Lake Michigan.
"IDEM continues to investigate the cause of this incident and the potential repercussions under the recently entered consent decree and state agreed order," the regulatory agency said Friday afternoon in a prepared statement.
The company released its own statement Thursday night saying the sheen seen in the Burns Waterway was no longer present and operations at the plant had returned to normal.
"An existing boom contained the sheen along the northern edge of a roughly 120 sq. ft. area," said Amanda Malkowski, lead media relations person with United States Steel Corp. "No sheen was observed entering or in Lake Michigan. We continue to investigate the cause."
The discharge was the second in less than two weeks from the plant and it again shut down lake access from nearby National Park and Ogden Dunes beaches.
Unlike the Sept. 26 spill, this one was not anticipated to have an impact on the Lake Michigan source water for the Ogden Dunes water treatment facility, which remained online, Joe Loughmiller, external affairs manager for Indiana American Water, said Thursday.
Malkowski said the company had shut down the rolling mills for a period Thursday and vacuum trucks were removing any accumulation. 
Portage Mayor Sue Lynch said unlike the Sept. 26 spill, officials at U.S. Steel contacted her about Thursday's occurrence and she was assured the company reported the incident to the appropriate regulatory agencies.
The contents of spill is not yet known and it is also unknown if it is the result of equipment failure or human error, Lynch had said. U.S. Steel is going to have to do a better job preventing these types of discharges, she said.
"It's very frustrating," she said.
Gina Ramirez, board president of the Southeast Environmental Task Force, issued a statement last week saying, "This spill is reminiscent to a similar one in 2017 in which the same U.S. Steel facility was responsible for dumping 300 pounds of hexavalent chromium, a known carcinogen, onto Lake Michigan. This latest spill also comes less than a month since a U.S. District Court approved a consent decree requiring U.S. Steel to address past violations of the Clean Water Act, including a $601,242 civil fine as a result of the April 2017 spill.
"It is incredibly concerning to hear about this latest spill that has happened so close to our community in Chicago's Southeast Side and how it has affected our region's largest resource of drinking water in Lake Michigan. That this is not an isolated incident for this company brings further distrust about the way in which these types of industrial facilities can co-exist with both our communities as well as the natural areas that surround them."
A coalition of entities with interests in the local shoreline of Lake Michigan called last week on state leaders to do more to protect the resource from industrial spills such as the U.S. Steel Midwest incident.