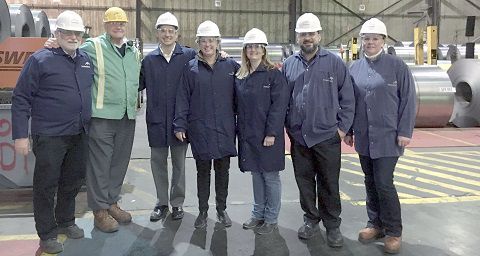 Indiana state lawmakers toured ArcelorMittal Indiana Harbor in East Chicago and ArcelorMittal Burns Harbor in Porter County to hear about how two of Northwest Indiana's largest steel mills are faring amid a time of elevated imports and what can be done to keep them competitive in an increasingly globalized sector.
State Reps. Earl Harris Jr., D-East Chicago; Hal Slager, R-Schererville; Scott Pelath, D-Michigan City; state Sen. Rick Niemeyer, R-Lowell; and other officials went on a tour this week of the No. 4 steel producing and 80-inch hot strip mill at ArcelorMittal Indiana Harbor, and the D blast furnace and the hot dip coating line at Burns Harbor.
"Talking with elected officials, providing business updates and showing them our steelmaking operations is vital to creating a culture of transparency," ArcelorMittal said in a news release. "It demonstrates our commitment to fully engage with those responsible for making decisions which can directly impact ArcelorMittal's sustainability including job creation initiatives, tax assessment policy and environmental regulations."
The lawmakers met with ArcelorMittal Burns Harbor Manager of Continuous Improvement Larry Fabina and ArcelorMittal Indiana Harbor Vice President and General Manager Wendell Carter to learn about the recent consolidation of blast furnaces and finishing lines in East Chicago and the Luxembourg-based steelmaker's Action 2020 plan. They discussed a variety of issues that could affect the mills in coming years, such as job training programs to ensure a pipeline of qualified steelworkers.
"Conversation topics included how imports from China are affecting sales and questions about diversity — including how many women work in operations," ArcelorMittal said in a news release. "They also discussed Indiana's Next Level Jobs initiative, introduced by Governor Holcomb in 2017."