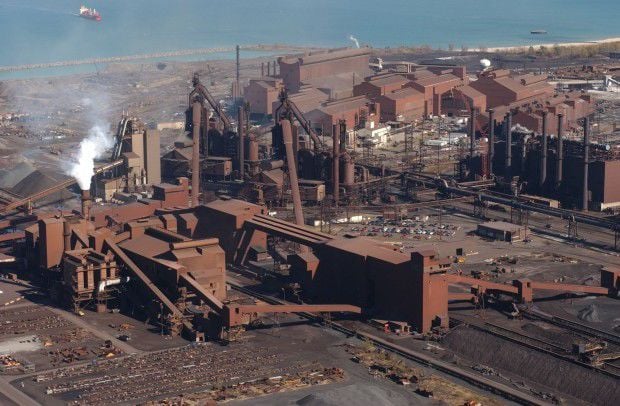 Indiana again led the nation in steel production last year, cranking out 27 percent of American-made steel.
The American Iron and Steel Institute reported that Indiana was the top steel producing state in the country for the 42nd straight year in 2016.
"Indiana produced 24.4 million net tons in 2016 and has been the top producing state since 1975," American Iron and Steel Institute spokesman Evan Martinez said.
Indiana took the steelmaking crown from Pennsylvania after automation and cutthroat foreign competition gutted the American steel industry in the 1970s, resulting in a number of mill closures across the country, but especially in the Pittsburgh area.
Northwest Indiana steel mills stayed open as the steel industry contracted. Their position on the Great Lakes meant a steady, efficient influx of raw materials like iron ore and coke that held down production costs.
Raw steel production in Indiana rose by 1.2 million tons in 2016, a 5.1-percent increase over the 23.2 million tons the state produced in 2015. The Hoosier state accounted for more than a fourth of the 87.9 million tons of steel the United States made in 2016, according to the American Iron and Steel Institute.
Indiana has more than 20,000 steelworkers, nearly a quarter of all steelmaking capacity in the United States and half the blast furnaces in the country. Most of Indiana's steel production takes place in Lake and Porter counties, in the massive integrated steel mills that ring the south shore of Lake Michigan. 
Northwest Indiana is home to the nation's largest steel mill, Gary Works, North America's largest integrated steelmaking complex, ArcelorMittal Indiana Harbor in East Chicago, and the newest integrated steel mill in the country, ArcelorMittal Burns Harbor.