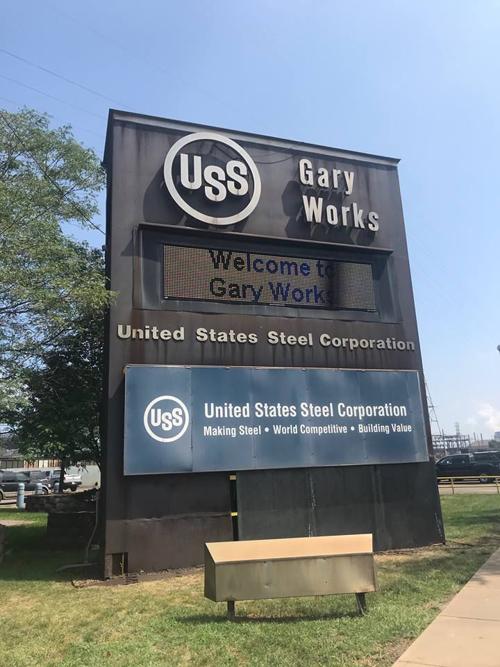 U.S. Steel operates some of the oldest integrated steel mills in the United States, including the 113-year-old Gary Works on the Lake Michigan shore.
Now it's taken a big stake in the country's newest steel mill.
Pittsburgh-based U.S. Steel, one of Northwest Indiana's largest employers, acquired a 49.9% interest in the new Big River Steel mini-mill in northeast Arkansas for $700 million in cash, "creating a partnership with a clear path to consolidation."
The steelmaker has an option to buy the remaining 50.1% of the "newest and most advanced flat-rolled mill in North America" at a market-dictated price in the next four years.
U.S. Steel said the deal gives the company a "best of both" footprint of integrated mills and mini-mills across a wider geographic area as many of its automotive customers shift south. The $2.325 billion Big River Steel mill makes a wide array of steel products for the automotive, energy, construction and agricultural industries, including advanced automotive steels and electrical steels.
"Our new partnership with Big River is designed to accelerate our strategy to offer our customers the 'best of both' by bringing together the capabilities of integrated and mini-mill steel production," U.S. Steel President and CEO David Burritt said in a news release announcing the deal. "Big River operates the most advanced, state-of-the-art and sustainable mill in North America, and our investment would ultimately strengthen our competitive positioning in highly strategic steel-end markets, creating an unmatched value proposition for our stakeholders."
Big River Steel opened two years ago and is currently going through an expansion project that will increase its production capacity to 3.3 million tons a year, which will make it one of the largest flat-rolled mills in the United States to use electric arc furnaces, which turn scrap metal into steel.
"We have been investing in leading technology and advanced manufacturing so that we can assemble a portfolio of competitive assets with distinct advantages to serve strategic markets to better position U. S. Steel to be an industry leader in delivering high-quality, value-added products," Burritt said. "The investment in Big River, coupled with our announced investments at Mon Valley Works and Gary Works, would ultimately position U.S. Steel with three core market-leading, differentiated and technologically advanced assets that will enable us to compete with anyone, anywhere, for generations to come."
Going forward, Gary Works, Mon Valley Works and Big River Steel will focus "on the products that each facility is best designed to produce," Burritt said.
"As an organization, we will be nimbler, more resilient and our teams will be more efficient," he said. "Collectively, these actions will help us continue to create long-term value for our stockholders, customers, employees and the communities in which we live and work."
U.S. Steel said Big River Steel's low operating costs will increase its profitability and help it achieve up to $1 billion in capital and operational cash improvements over the next three years.
The steelmaker said the deal means it will be better able to capitalize off high-margin markets like energy, infrastructure and automotive, and position it to serve both the United States and Mexico, which has a growing automotive industry. 
"U. S. Steel's decision to partner with us through this investment in Big River is a decisive vote of confidence in our company, our vision and our people," Big River Steel CEO Dave Stickler said in the news release. "As the newest steel production facility in North America, I could not be more proud to be partnering with a company started by Andrew Carnegie more than 118 years ago," Stickler said.
U.S. Steel said it is boosting its $1.5 billion asset-backed lending facility to $2 billion and using that larger facility to fund the deal.
"We appreciate the opportunity to be a part of this exciting transaction that combines Big River's state-of-the art, LEED-certified steel-making technology and U. S. Steel's experience and demonstrated know-how," Big River Steel chairman Dan Murray said.