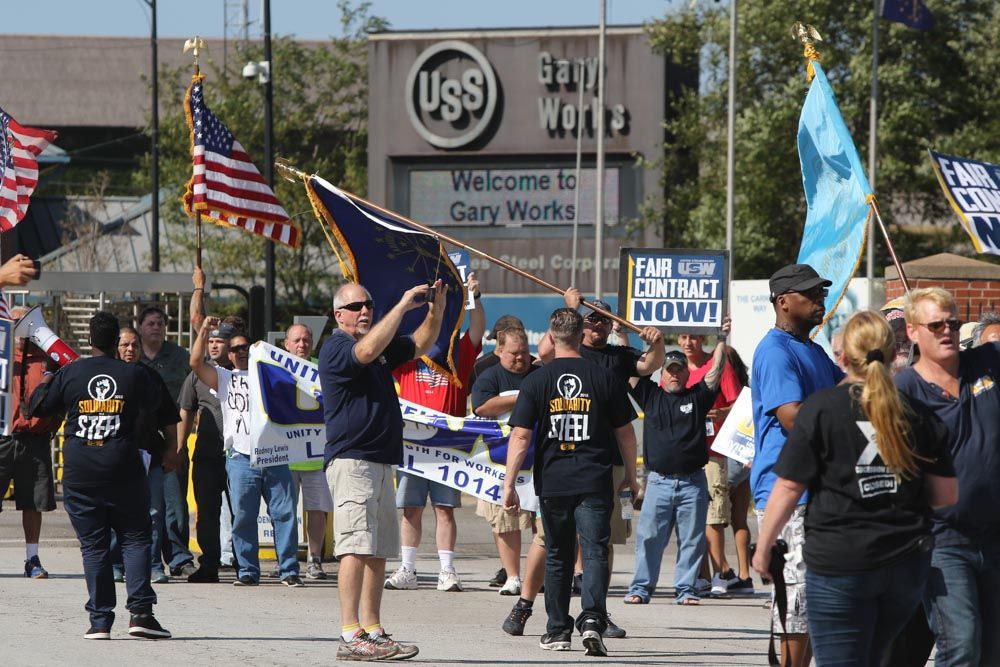 About 9,500 ArcelorMittal steelworkers in Northwest Indiana won't get a pay raise over the next three years under a proposed contract, but the United Steelworkers union said it preserves wages and benefits, including no premiums for health insurance.
ArcelorMittal and USW negotiated for more than a year before reaching a tentative agreement Wednesday. ArcelorMittal wanted to slash costs after losing $8 billion last year, including by slashing health insurance benefits, while the union said temporary struggles in a notoriously cyclical industry shouldn't fall entirely on the backs of the workers.
"After almost a year of difficult bargaining that continued eight months past the expiration of our previous contract, our committee's hard work and dedication have resulted in a tentative agreement with ArcelorMittal," USW International President Leo W. Gerard said. "Our members' unwavering solidarity throughout the bargaining process in the face of management's persistent demands for major cutbacks has been rewarded."
Thousands of union members in Northwest Indiana staged major rallies in Burns Harbor, East Chicago, Gary and Crown Point while negotiations dragged on.
"For ten months, our brothers and sisters marched in the streets, rallied at their plant gates and delivered our message to management every step of the way," USW District 7 Director Mike Millsap said. "Rather than allow the company to divide and conquer, our committee shared information to keep everyone informed, and our local union activists and leaders truly held everyone together."
Millsap said the union got the best deal it could under difficult economic conditions and he believed members would understand that. Local steelworkers should get contract summaries mailed to them in the next two or three weeks, and then the union will schedule meetings at local union halls to explain the details. Then will come the ratification vote.
The USW says the plan includes $2.5 billion in capital investment, a 90/10 health care plan for workers and retirees, added vision coverage for retirees, improved pensions, a parental leave provision and an experimental child care reimbursement program. Workers can get quarterly bonuses when hot-rolled steel prices go above $600 a ton. Retirees will have to pay $30 more a month for health insurance if they're pre-Medicare, and $15 more a month if they're Medicare-eligible.
ArcelorMittal, which will soon report its first quarter earnings, suddenly called the USW bargaining committee back to the table in Pittsburgh last week and the two sides then reached a tentative pact.
The new contract would cover about 14,000 ArcelorMittal employees nationwide at 15 locations, including East Chicago, Gary, Riverdale and Burns Harbor.
"Early in the process, we committed to our members and retirees that we would not allow the company to use a temporary downturn in our industry as an excuse to reverse decades of collective bargaining progress," USW District 1 Director David McCall said.
The solidarity of USW members enabled the committee to negotiate a fair agreement that preserves wages, benefits and other contractual protections without lowering the standard of living for current or future retirees, McCall said.
The business news you need
With a weekly newsletter looking back at local history.