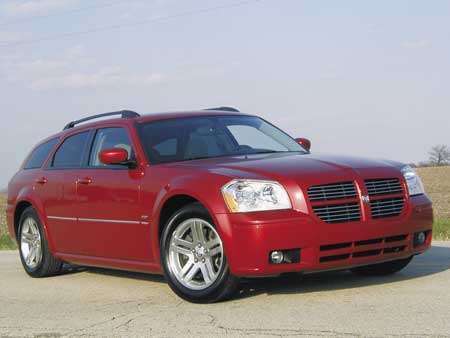 Chrysler Group uses the newest trendy term "sports tourer" rather than "station wagon" to categorize the 2005 Dodge Magnum. Six of one or a half dozen of another, it's all in the eye of the beholder.
Class identification aside, the all-new Dodge Magnum's unique profile, wagon-like cargo versatility, rear-wheel drive performance and available HEMI V-8 power gives Magnum bragging rights as a one-of-a-kind vehicle in today's marketplace.
"Dodge Magnum is just one of the new and exciting vehicles in our fast-paced launch plan," said Dieter Zetsche, president and CEO of the Chrysler Group "All told, we'll bring 25 new vehicles to market in the next 36 months."
The 2005 Dodge Magnum comes in SE, SXT and RT models featuring three different engines: A base 2.7-liter, 190-horsepower V-6; 3.5-liter 250 hp, V-6; and a 5.7-liter 340-hp, HEMI V-8. Depending on the engine, either a four- or five-speed automatic only transmission is standard.
More than 30 years has passed since Dodge challenged the streets with HEMI power and rear-wheel drive performance.
The legendary HEMI engine that ignited Dodge muscle cars in the 1960s has been re-engineered as a modern, high-performance, fuel-efficient powerplant that musters 390 pounds of pavement pulling torque capable of hurling the 2005 Dodge Magnum RT 0 to 60 mph in just 6.3 seconds.
Another side of the HEMI rebirth signals greater fuel-economy for the brand as the Magnum RT will be the first modern production vehicle in North America to feature cylinder deactivation.
The Chrysler Multi Displacement System seamlessly turns off the fuel consumption in four cylinders of the 5.7-liter HEMI engine when V-8 power is not needed, delivering fuel economy of 17 mpg around town and 24 mpg on the highway.
All-wheel drivetrains, to bow this fall on Magnum SXT and RT models, are estimated to achieve 17 city and 23 hwy, according to Dodge.
This station wagon does what a wagon does nn haul gear. Magnum's liftgate hinges forward off the vertical roof post above the tail lamp to open straight up instead of swinging out, creating a 11.3-square-foot opening to swallow cargo in close quarters.
Inside, there is room for 27.2 to 71.6 cubic feet of cargo space, depending on how the 60/40 split-rear seats are folded. Lift over height is low and the load floor is flat.
Up front, first and second row seats offer generous hip and leg room to accommodate five adults.
With front seats comfortably positioned for a six-foot driver and passenger, back-seat knee room measures nearly five inches to the front seat back rests. The driver's foot well is wide enough for a dead pedal on which to rest the left foot.
Properly equipped Magnums can tow up to 3,800 pounds. Plenty of oomph to pull a bass boat or trailer loaded with a couple jet skis.
The 2005 Dodge Magnum is a large sport wagon with a big, beefy look. Rolling on a 120-inch wheelbase (1.5-inches shy of a Mercedes-Benz S-Class luxury sedan), its styling, particularly on RT models, is one part station wagon, one part muscle car.
Magnum's front-end features the Dodge distinctive crosshair grille set between a pair of large, wedge cut headlamps.
Magnum RT has a tire focussed look with massive arched wheelhouses that bulge more than 18-inches around five-spoke wheels.
Chrome dual exhaust tips exit the lower rear fascia, but lack the "means business" exhaust note expected of a car fixed with the HEMI badge.
The 2005 Dodge Magnum goes on sale next month ranging in price with freight, from $22,495 for base SE, $25,995 on SXT models, and $29,995 for a HEMI equipped RT.