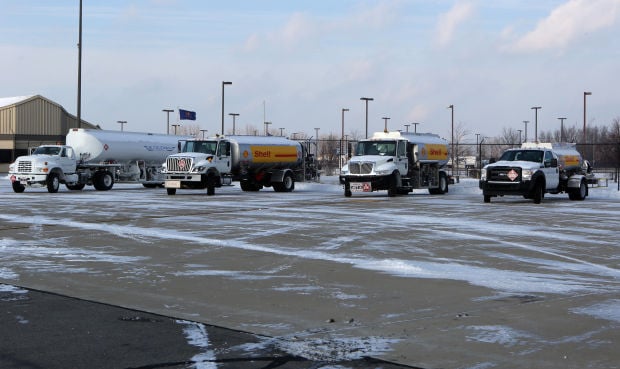 The Gary Jet Center is suing the former Gary/Chicago International Airport Authority, alleging it schemed to give unfair competitive advantages to a prominent Chicago real estate firm and ultimately shortchange taxpayers.
The lawsuit filed in federal court Monday alleges former Indianapolis Airport CEO and Gary airport consultant John Clark hatched the deal that led to East Lake Management & Development Corp. being extended unusual airport privileges, including a nine-month waiver for collecting standard airport fees.
East Lake Management & Development operates a fixed-base operation, basically a service station for aircraft, at the airport under the name of B. Coleman Aviation. It currently operates out of modular housing units but yesterday broke ground on a new 25,000-square-foot hangar facility.
"I'm not here to shut anyone down," said Gary Jet Center owner Wil Davis on Tuesday. "I'm just here to say, 'Wait a minute, let's play on a level playing field.' And right now, it's not."
The Gary Jet Center has been the airport's fixed base operator for more than 20 years. B. Coleman was launched when the airport authority granted it a 20-year lease to build a hangar earlier this year.
Among privileges the lawsuit alleges East Lake Management & Development enjoys are a lack of any requirement to collect landing fees, parking fees, fuel flowage fees and others that the Gary Jet Center must collect and turn over to the airport authority. The suit claims those exemptions give East Lake a huge competitive advantage.
B. Coleman General Manager and Partner Benjamin Toles on Tuesday said he had not seen the lawsuit, but vigorously denied the allegations made by the Gary Jet Center.
"We pay every fee Wil Davis pays," Toles said. "We pay every fee the airport asks us to pay."
The lease for B. Coleman aviation's hangar facility spells out it must adhere to the regulations and standards of the airport and it abides by those, Toles said.
The lawsuit alleges John Clark's JClark Aviation, working as a consultant for the airport, developed the unlawful plan to exempt East Lake Management & Development from rules and regulations. Clark could not be reached for comment Tuesday.
The lawsuit states treating all airport tenants equally is a requirement of federal law and by discriminating the Gary airport is endangering millions of dollars in taxpayer funded benefits from the Federal Aviation Administration. It also takes issues with the no-bid contract the former airport authority awarded East Lake Management & Development for managing the airport's hangars for small planes.
It also alleges B. Coleman's use of truck-to-truck refueling for aircraft violates both regulations and best practices for fixed base operators.
Toles said B.Coleman's fueling operation has been inspected by the Gary fire department and comports with all regulations. He said B. Coleman was forced to use truck-to-truck refueling when the Gary Jet Center enforced a provision of its own lease, which basically grants it exclusive use of the airports fuel tanks until the airport chooses to install more.
East Lake Managment & Development's interest in the Gary airport has caused a stir among Chicago political observers, because the company is run by Chicago real-estate baron Elzie Higginbottom. He was at one time a top fundraiser for former Chicago Mayor Richard Daley.
Toles defended his boss against any allegations special favors may have been extended to him because of his political prominence.
"Elzie stayed completely out of these negotiations," Toles said. "If anything, all he's ever told me is make sure I do everything according to the law."
The lawsuit asks for the court to issue an injunction forbidding the current Gary airport authority from discriminating against the Gary Jet Center. It also seeks monetary damages.
It names the Gary airport authority and five former authority members who voted for a waiver from airport requirements for East Lake as defendants.
Gary Jet Center lawyer John LaDue said Davis wants to ensure a secure future for the airport where he has made his living for more than two decades and employs 48 people.
"He expects to be here for a good long time and want to make sure everyone is treated fairly, not just today, but going forward," LaDue said.
The business news you need
With a weekly newsletter looking back at local history.