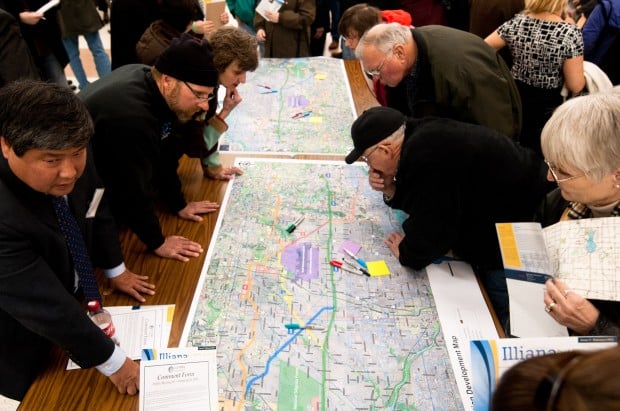 Federal approval of the proposed corridor for the Illiana Expressway is just around the corner, and meetings with landowners as well as a detailed engineering study will start just after the new year, according to INDOT.
INDOT Director of Program Management Greg Kicinski told the Northwestern Indiana Regional Planning Commission on Thursday that federal environmental agencies have signed off on the expressway's proposed route. A federal "record of decision" will be issued by year-end, he said.
"This is pretty much a record time for a project of this size to get a record of decision," Kicinski said.
The record of decision will kick off another round of expressway study, which will stretch into 2014, Kicinski said. That study will narrow down the corridor route from its current 2,000 feet to just 400 feet. It also will include detailed studies of bridges and interchanges. In addition, the issue of how much can be charged in tolls will be examined.
The proposed expressway will run from Interstate 65 in Lake County to Interstate 55 in Illinois, running due east-west between Cedar Lake and Lowell. The Indiana Department of Transportation and the Illinois Department of Transportation also continue to study a "no build option" as required by law.
Kicinski was briefing NIRPC at its regular meeting Thursday at its Portage headquarters because the expressway eventually will be brought before the planning agency for a vote of approval and inclusion in its transportation improvement plan. That could happen as early as next summer, Kicinski said.
The second round of the Illiana Expressway study also will have to go to federal officials for their approval, probably in 2014, Kicinski said. More public hearings will take place before that happens.
Landowners and residents from southern Lake County were in attendance at Thursday's NIRPC meeting to listen to INDOT's presentation on the Illiana Expressway. Many are sharply critical of the proposal. Union leaders, who have generally favored the expressway, also were there.
Lowell Town Councilman Don Parker said the more involvement by local residents and officials in the expressway's planning, the better it will be for everyone.
"There is a huge benefit for us," he said. "It won't be something everyone wants. But we have to be involved in our own destiny."
He also issued a warning of what will happen if local residents and officials are not involved.
"If we are not careful, this will just be an Indiana driveway to the Illinois Tollway," he said.
Gary Mayor Karen Freeman-Wilson said mayors have serious concerns about the proposed expressway taking business away from north Lake County cities, after Kicinski reeled off all the benefits for what is known as the "Illiana Study Area." That area is bounded by U.S. 30 on the north and runs as far south as the Kankakee wetlands in the south.
"You are saying there really is no incentive or positive upside for the northern communities," Freeman-Wilson said.
Kicinski said there should be benefits as far as air quality in northern Lake County. Also, the Illiana Expressway would relieve some of the congestion on the Borman and other north Lake County roads, he said.
Kicinski also said the Illiana Expressway should not hurt truck stops along the Borman because that expressway will continue to operate "at capacity and over capacity."