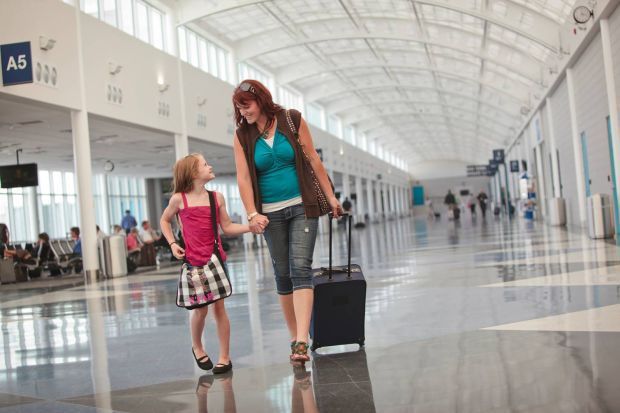 When local industrialist, Vincent Bendix, began construction of an airport for northern Indiana back in 1929, little did he know at the time that his vision for the area would quickly open up a 'window to the world.' Today the South Bend airport serves hundreds of thousands of travelers each year and can easily take anyone wherever they want to be, says Julie Curtis, director of marketing and development. Name your destination—South Bend can get you there with just one stop.
"When making travel plans, people should absolutely start and end here in South Bend for a number of great reasons. First, it's fast and convenient. We are just one simple stop from anywhere in the entire world. And second, we're your neighbor. It's important to support the local economy here in Indiana rather than another city in another state," Curtis says.
South Bend International Airport (SBN) is growing, expanding services and working diligently to add new nonstop destinations in order to widen their direct reach and further boost the area's economy. Flying locally has become increasingly popular for both business and leisure travelers alike, and is often easier and less expensive than traveling to larger out-of-state airports.
Consider your options here in South Bend. Through United Airlines, SBN offers six daily flights to Chicago O'Hare which makes for a great way to travel at whatever time fits your schedule. And starting October 26th, United expands east coast opportunities by offering daily nonstop service to New York City through Newark Airport. For travel to our north and south, Delta Airlines departs five times daily to Detroit, Michigan, and multiple times daily to both Minneapolis, Minnesota and Atlanta, Georgia.
"These are all hub cities for our airlines, so our travelers are well connected and can easily get to wherever they need to go," says Curtis.
And for the leisure traveler, South Bend is home to Allegiant Airlines which travels nonstop to popular vacation destinations including Las Vegas, Phoenix/Mesa, and three Florida destinations: Tampa/St. Petersburg, Orlando/Sanford and Punta Gorda/Ft. Myers.
"We had been working on the New York route for about two years and competed with every other airport in the United States for this route. We target destinations that we know would be a win for our market. United saw the value in our market and we're very fortunate to have them as our partner for this new service," Curtis says.
And now SBN's expansion sights are set internationally. Industry experts point to international travel as the greatest opportunity for future growth. To this end, South Bend received its international designation from U.S. Customs and Border Protection this past April, and is currently constructing a federal inspection station and general aviation facility.
"These new facilities are needed to land international commercial and corporate flights so people can clear customs right here in South Bend. We identified demand to international markets prior to moving forward with this designation and are in discussions with several airlines for nonstop service," says Curtis. "Mexico and the Bahamas are our first points of interest. We will also look at Toronto and Ireland down the road. We are targeting a start date of fall 2015."
In addition to being a resource for travelers, SBN benefits the people of the region in ways they may not realize. Curtis says, "We have an economic impact of $1.7 billion on our regional economy. Having an airport in the community is essential for attracting businesses and commerce. The benefits of the New York City route alone are very significant, and will add an additional $50 million to this impact. The travelers of our region are encouraged to use this new route and spur further economic activity in this state."
Flying from South Bend Airport just makes sense, and according to Curtis, it makes "cents" as well. She explains, "It's a misperception that it is more expensive to fly out of South Bend. We urge our travelers to not only check bottom line ticket prices, but to also look at the total trip cost." Gas for the drive, tolls, parking costs and a hotel stay if catching morning flights all add up rather quickly—and do not include the time spent stuck in traffic or tied up waiting in line. "At South Bend International Airport, you can get in, get out, and get home quickly," says Curtis. "The times we obtained for our New York route were specifically designed to give travelers a full day in the city, landing at 8:23am and returning to South Bend at 9:13pm" Business travelers can do a whole day of business in one trip without an overnight stay. Leisure travelers can plan a full itinerary without accounting for wasted'travel days.
"No matter what your travel plans are, our service to the community is that we can get you in and on your way without difficulty or delay. No wasted time. No confusion. It's a win-win for our travelers and a great benefit for the community."
Where to next? It's up to you—and the team at South Bend International Airport—to fly wherever you set your sights.