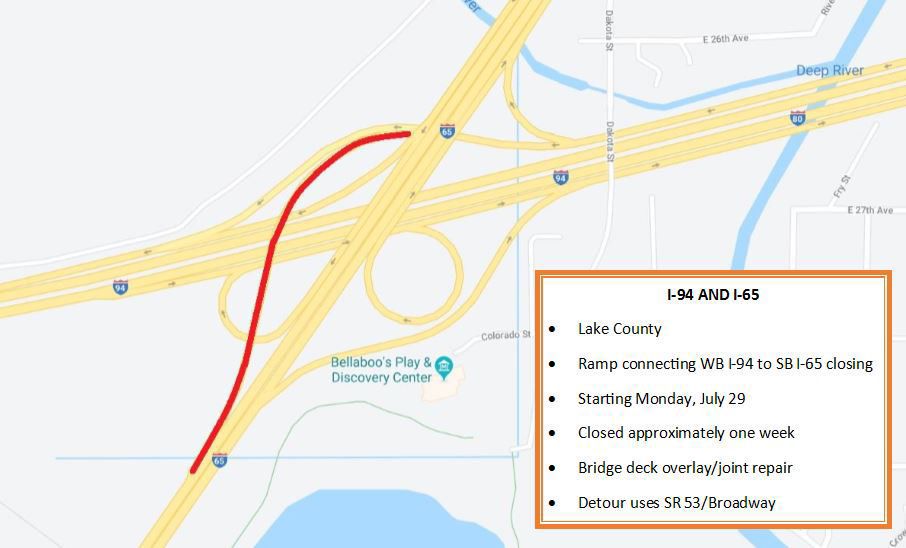 The start of a highway maintenance project requiring the temporary closure of a significant Northwest Indiana transportation connection has been delayed.
The Indiana Department of Transportation announced earlier Monday that the ramp connecting westbound Interstate 80/94 to southbound Interstate 65 now will close Wednesday morning for workers to repair joints and install a bridge deck overlay.
The one-week closure originally was slated to begin this morning. But INDOT said a key contractor had to reschedule its work at the last minute.
***UPDATE***

Folks, this planned closure of the ramp connecting westbound I-94 to southbound I-65 has been rescheduled for Wednesday morning. The closure is still scheduled to last one week. https://t.co/10zHq5tXPs

— INDOT Northwest (@INDOTNorthwest) July 29, 2019
The ramp still will be closed for one week starting Wednesday, according to INDOT.
When the ramp is closed, westbound I-80/94 motorists needing to travel south on I-65 will be directed to continue west past the usual exit to Broadway (Ind. 53), briefly take Broadway south and immediately re-enter eastbound I-80/94 to get to southbound I-65.
The project is part of Gov. Eric Holcomb's "Next Level Roads" initiative that's projected to spend $30 billion over the next 20 years to construct and improve roads and bridges throughout the state.