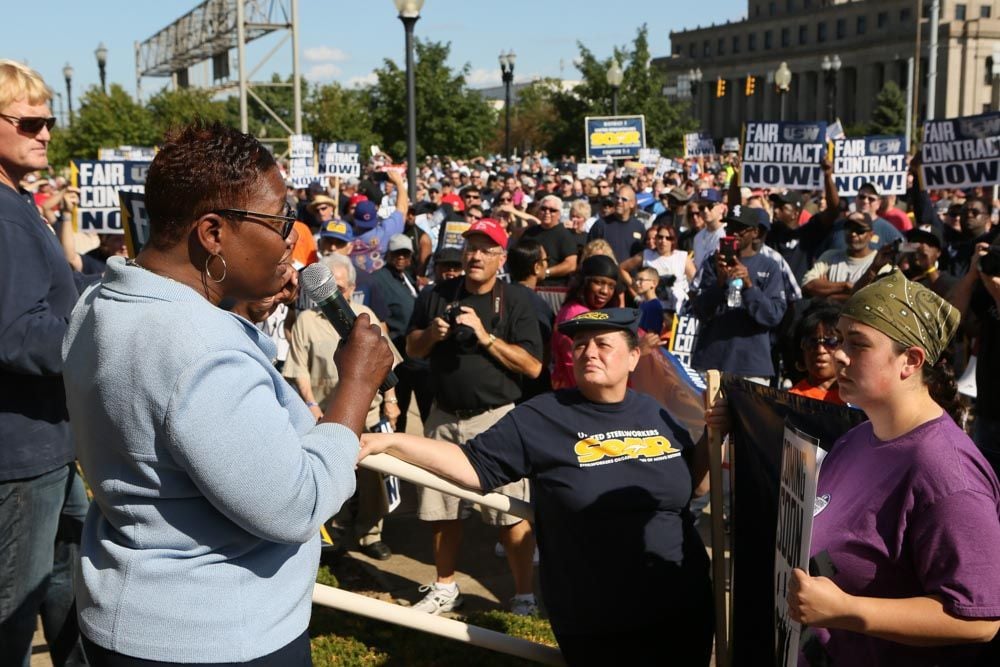 GARY — Steelworkers had been growing increasingly anxious as contract talks dragged on.
They feared increased out-of-pocket health care expenses that would essentially amount to deep pay cuts. They worried what less coverage would mean for their spouses and children. They talked about whether they'd be willing to strike.
Now, three months after the labor contract expired, the United Steelworkers union has reached a tentative pact with U.S. Steel after one of the most difficult bargaining sessions in history.
The new contract will cover 18,000 union steelworkers at U.S. Steel mills around the country, including Gary Works, East Chicago Tin and the Midwest Plant in Portage.
"We are please that we have reached a tentative agreement in the best interest of our company, our stakeholders and our employees," said Mario Longhi, U.S. Steel president and CEO. "We believe this competitive three-year contract further supports the mutual success we have had with the USW in pursuing our Carnegie Way efforts and confronting unfair trade that is significantly impacting our industry."
Details are scarce, but the union promises they will come soon.
"It would be nearly impossible to summarize the details of such a broad agreement in an update like this, but over the coming days and weeks, we will be preparing detailed summaries of the proposed contract for you to review," the USW said in an update to members. "We will then schedule meetings to discuss the proposal and consider ratification. We will keep everyone informed as this process moves forward."
More than two dozen union locals representing U.S. Steel workers across the country still have to ratify the deal.
The USW said it made significant progress at the bargaining table in Pittsburgh after U.S. Steel's initial proposals to make steelworkers pay as much as $6,300 a year out of pocket for health care.
"This tentative agreement represents a major step forward from the position we found ourselves in earlier this summer when we were facing relentless company demands for deep and permanent concessions," the USW said in an update to members. "As you know, this has been a difficult year and one of the most difficult rounds of bargaining we have faced, but knowing that we had the solidarity and strength of the membership behind us made all the difference as we attempted to stand up to the company's most onerous demands."
The USW recognizes the industry faces a crisis with imports capturing 30 percent market share and domestic steelmakers losing hundreds of millions of dollars every quarter. But the union didn't want workers to bear the full brunt of the industry's current woes.
"We have been determined not to be forced to pay the full price for the problems of unfair trade and global overcapacity," the USW said in an update to members. "Our goal throughout this process was to make sure we were not made scapegoats for what are global and, we believe, temporary problems."
The USW is still negotiating with ArcelorMittal, Northwest Indiana's other major steelmaker. Those talks are on hold for the holidays and expected to resume in January.