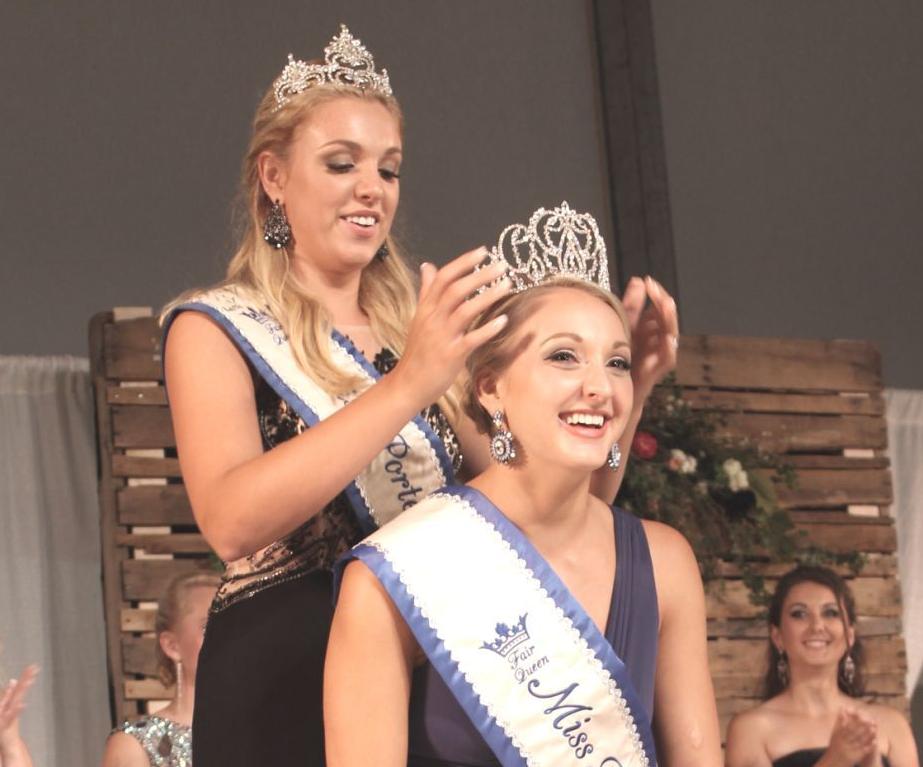 Morgan Township | Natalie Girman was crowned Porter County Fair Queen on Saturday evening at the Porter County Fair in the Park Place Pavilion.
Girman, 20, a junior at Butler University and a 2013 graduate of Valparaiso High School, was the fair's 55th queen and was sponsored by the Valparaiso Noon Kiwanis Club.
Erin Roeske, sponsored by Culver's of Valparaiso, won Miss Congeniality, while Ashleigh Dulik, sponsored by the Memorial Opera House, won Miss Photogenic. Megan Heinold, sponsored by Valparaiso Rotary Club, was 2nd runner up, while Dulik was 1st runner up.
Katelyn Marak, 2015 Miss Great Lakes and 2012 Porter County Fair Queen, opened the program by singing the national anthem, and then 12 contestants paraded in hobby wear, which included Megan Heinold in a Kouts basketball uniform, Dovie McCorkel in a soccer uniform, and Cheyenne Garpow with diving equipment.
Marak explained that the young women accrued points for each category, which also included professional wear, evening gown, and an interview with the judges prior to the evening's event.
Contestants also answered an "impromptu" question while displaying their evening gowns. When asked what she would do to promote the Porter County Fair, Girman said she would make a point to enjoy all the free entertainment.
"I'd want to show anyone the fair and promote this great event," said Girman.
Entertainment for the evening was the Cutest Baby Contest, where little ones competed in five age categories. Jack Kraft, 8 months, the son of Jonathan and Anna Kraft of Valparaiso, was the overall winner.
In her farewell speech, outgoing 2014 Porter County Fair Queen Madeline Johnson expressed her thanks.
"I'm grateful to have been given this opportunity by God to represent Porter County this year," said Johnson. "I learned so much about myself along the way. It has been one of the best experiences of my life."
Prizes afforded the queen include $500 cash, a $50 gift card, and an all-expenses paid trip to the 2016 Indiana State Fair Queen Pageant January 8-10, 2016.