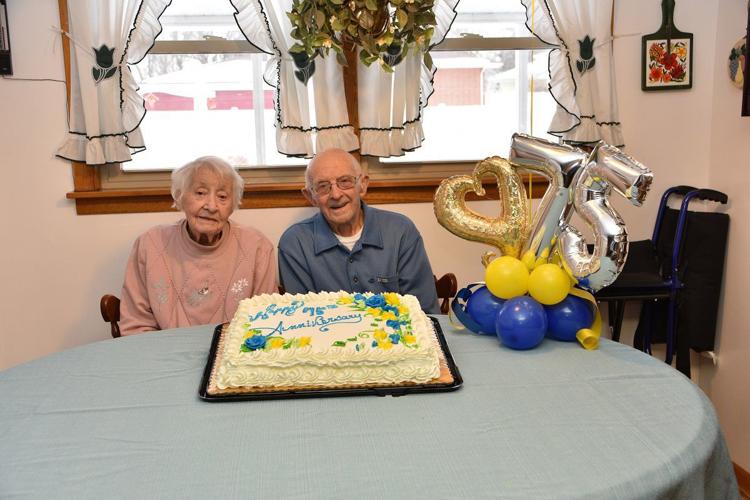 David and Mildred Munson, of Munster, celebrated their 75th wedding anniversary on Feb. 20. They enjoyed an Open House at their home on Feb. 17, and were overjoyed to spend time with close friends, neighbors, and family.
They are the parents of three children: David (Tina), the late Jerry (Ilene) and Debbie (Michael). They are loving grandparents to Joe (Sarah), Gina (Ivan), Doug, Mandy (Shannon) and Jon (Sharon); and proud great-grandparents of Alyssa, Mateo, Maggie, Grace, Michael and Leo.
David served in the US Navy during World War II and is retired from Heckett Engineering. Dave & Millie are members of the Salvation Army and traveled extensively doing mission work. They traveled to the Caribbean for reconstructive work following hurricanes, helped build churches and schools in India, escorted adopted babies from South Korea, assisted with flood damage in the Midwest, and were also able to do some sightseeing in Europe.
If you pull up a chair on the deck, have a glass of iced tea and listen. David will regale you with stories of strip mining coal in Pennsylvania, serving in the Pacific during the war, and describing any big equipment you care to know about. Millie will tell you about breaking her leg on a mountainside on a Caribbean island and being carried down on the back of a native, meeting Mother Teresa in India, and being awed by the beauty of the Alps.
Their commitment in good and bad times taught us how to love. Their tolerance taught us patience. Their support during our failures taught us solidarity. They taught us how to live. We have truly been blessed.