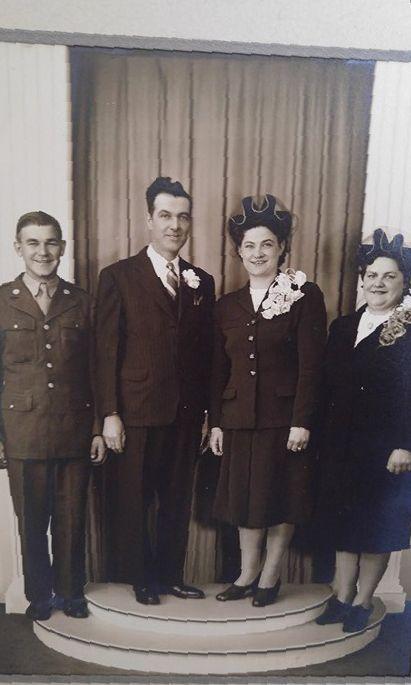 In a Saturday morning ceremony at SS Peter and Paul's church at Turkey Creey, Miss Helen Eich, daughter of Mr. and Mrs. Joseph Eich, and William Croell spoke their marriage vows with Rev. J. Nickels reading the service. The bride was attractive in a smart navy blue suit with white appointments and a shoulder corsage of white rose buds. Her sister Mary, as bridesmaid, wore a black suit with white accessories and a corsage of yellow roses. Pfc. William Eich, a brother of the bride, came from a Texas camp to serve the groom as best man.
Following the ceremony, a wedding dinner and reception were held at the home of the bride's parents. A tiered white cake with side arrangement of spring flowers formed the centerpiece for the table. Fifty relatives and friends were present to enjoy the reception and offer congratulations and good wishes. Three sisters of the groom, Mrs. Henry Vandenburg, Mrs. J. Evers and Mrs. Ann Klem, of Appleton Wisconsin, attended the ceremony and reception.
After a honeymoon trip, the young couple will live with Mrs. Frank Gund in Lowell for the present and will later move to a farm where the groom as accepted a position as farm manager.
*Note: This is a re-run of a celebration announcement that ran in The Times on May 3, 1943. The couple was married on April 28, 1943.
Be the first to know
Get local news delivered to your inbox!