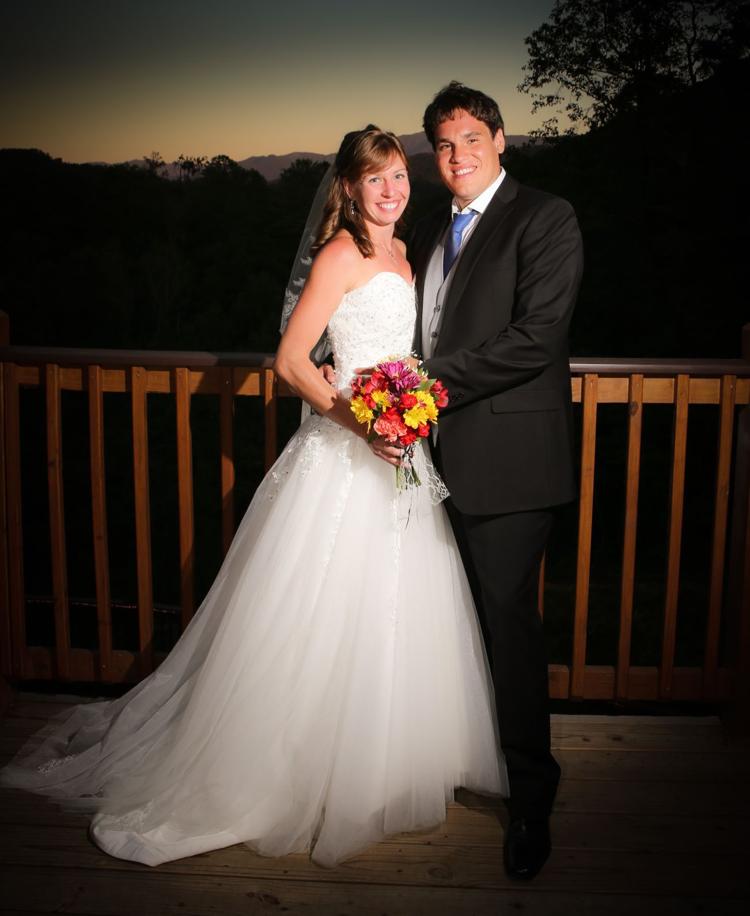 Jaclyn Joy Duemler, of Bloomington, Indiana and Felipe Muñoz Rubke, of Santiago, Chile, were married in a beautiful outdoor ceremony on July 30 in the Smoky Mountains in Pigeon Forge, Tennessee. The couple spent two days with all their closest friends and family at the Smoky Mountain Lodge where they truly enjoyed time together, especially since many traveled from far away. The guests represented seven countries and were thrilled to celebrate their wedding with them, as well as a weekend of hiking, barbecuing and dancing. It was a very special event, especially as the couple moved to Puerto Montt, Chile after their honeymoon.
Special friend, Padre Rob Bracco performed the afternoon ceremony.
The bride walked down the stairs of the Smoky Mountain Lodge to specially chosen music in a soft white sweetheart neckline beaded lace appliqued A-line gown with a sweeping chapel train holding a bouquet of wildflowers. The ceremony was intimate and touching and included family with a unity candle lighting.
Maid of honor was Joy Hansri, of Toronto, Canada and the best man was Juan Giglio Gutierrez, of Santiago, Chile.
The groom's mother Alicia Rubke Meneses, also of Santiago, the bride's parents Theresa and Terry Duemler and brother David, of Bloomington, Indiana, and her Uncle Daniel Schelfo and cousins Marie, Aaron and Mariel, of Crown Point, were all part of this celebration.
The reception was also held at the cabin where they dined, toasted and danced through the night.
The newly married couple began their honeymoon with some of the guests hiking in Iceland, then the couple traveled on to Germany and Spain.
Jaclyn earned bachelor's degrees in biology and international studies and a master's degree in public affairs at Indiana University, taught science and English in Thailand, and most recently served as the energy outreach coordinator for the city of Bloomington, Indiana.
Felipe earned a master's degrees in psychology at Universidad de Chile and in statistics from Indiana University, and received his PhD in cognitive science and neuroscience. He is now a professor of psychology at Universidad Austal de Chile, Puerto Montt, Chile.