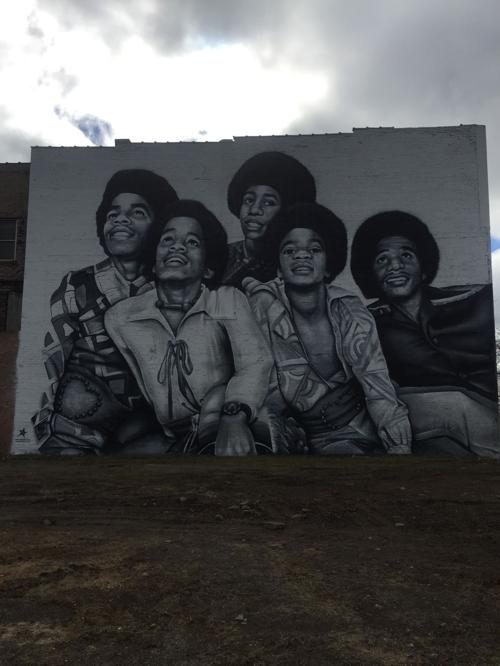 Gary was, of course, home to the Jackson 5, and now the city is celebrating it in towering fashion.
The celebrated graffiti artist Felix "Flex" Maldonado and his assistant Omar "OMS" Marin painted a four-story Jackson 5 mural that the city commissioned on a vacant building at 561 Broadway Ave. The famous singers, including a young King of Pop Michael Jackson, are rendered in vivid detail in black and white paint on the brick facade.
"We are excited about the role public art can play in enhancing an area," Gary Mayor Karen Freeman-Wilson said. "This piece falls in line with ongoing revitalization in our downtown; the Gary State Building project, the Gary Arthouse project, the demolition of longstanding eyesores — namely the former Sheraton, where the City Centre, a green urbanism project is underway.  The Jackson 5 mural displays a visual connection to the city while positively promoting the public image of Gary."
Maldonado painted a similar but much smaller Jackson 5 mural on Lake Street in Gary's Miller Beach neighborhood as part of the Lake Effekt art project. It's been a huge hit. Tiffany Tolbert, executive director of the neighboring Indiana Landmarks Northwest Field Office, said people constantly stop to snap photos.
Maldonado, an East Chicago native who's currently based in Hammond, was a runner-up for the ArtHouse: A Social Kitchen project downtown. That got city officials more interested in his work, and they approached him about a doing mural downtown.
Gary residents got a choice of three designs celebrating Gary's heritage, and ended up choosing the Jackson 5.
"We wanted to come up with something that would cast the city in a positive light," he said. 
He scoured the internet for pictures of the young Motown singers and found one he liked where the Jackson 5 were looking upward.
"They looked inspired," he said. "They looked like they were on that journey of success. We wanted something inspiring for Gary." 
Using hydraulic lifts, Maldonado and Marin painted the massive 60-meter-by-60-meter mural over a period of about two weeks. It's the largest piece he's ever painted and likely the largest mural in Northwest Indiana. It's more on the scale of some of the huge pieces on the sides of high-rises in Chicago's South Loop.
"It's a huge wall," he said. "It was exciting and nerve-wracking to do something that big. I knew I could execute it right and was confident in my ability, but when you're doing what you do you encounter some type of fear."
The reception has been extremely favorable thus far.
"The testimony I've got is that it could reinvigorate or spark something in the city," he said. "The best comment was a woman who walked up to the boom list and said, 'That is glorious.'"