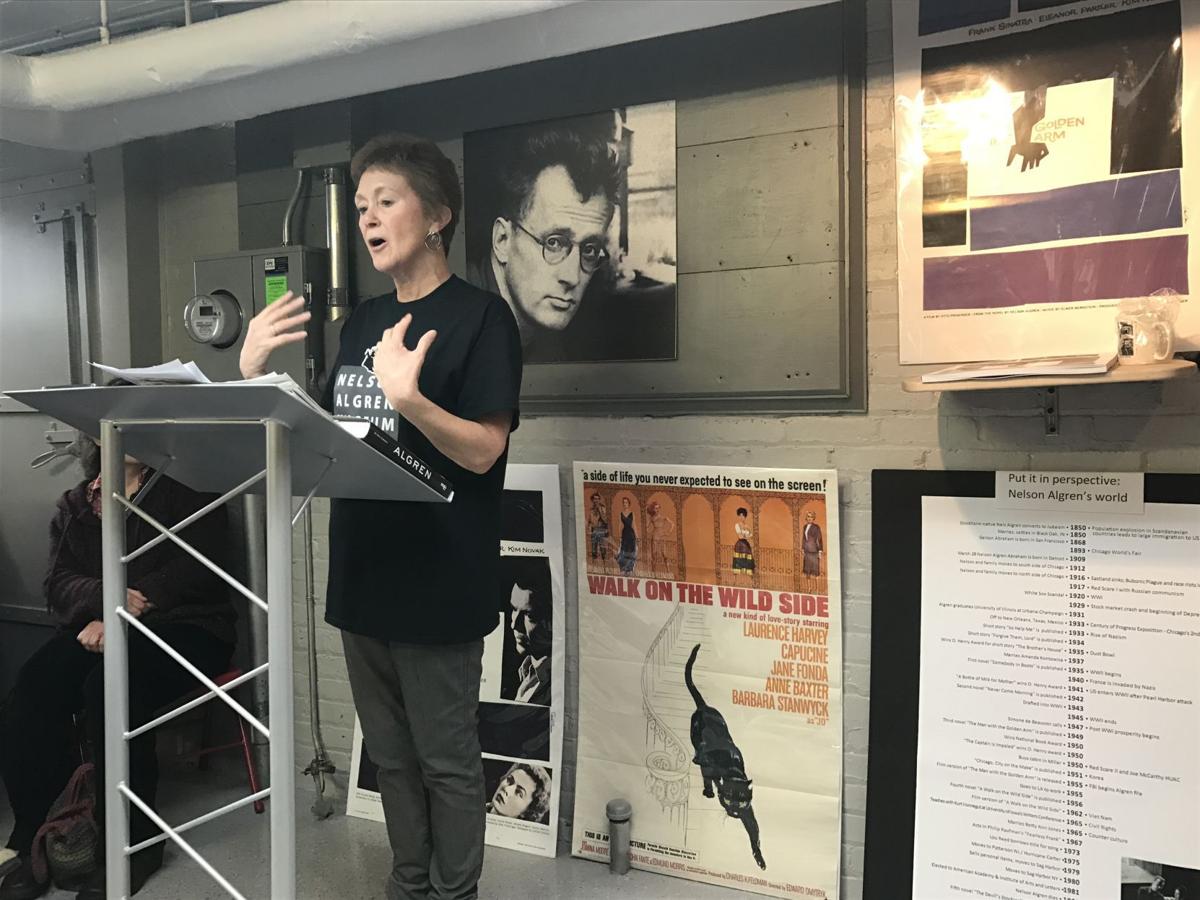 Gary's new Nelson Algren Museum landed a collection of historic photographs from Algren's friend and confidant Art Shay, including a copy of the photo of the famous author ducking out of a Gary liquor store with a six-pack — an 8-foot-by-10-foot poster of which is being prominently displayed on Lake Street.
Shay is an acclaimed Chicago-based photographer whose work is in the permanent collections of renowned museums like the Art Institute and the National Portrait Gallery in Washington, D.C. He's been published in Times and Sports Illustrated and photographed seven U.S. presidents.
"He's given us 20 of his photographs," Nelson Algren Museum organizer Sue Rutsen said. "They're here as part of the permanent collection." 
The new museum at 541 S. Lake St., which was the brainchild of Rutsen and George Rogge, pays tribute to the National Book Award-winning author of "The Man with the Golden Arm" and "A Walk on the Wild Side." Algren, while closely associated with Chicago, lived in a beach cottage in Gary's Miller neighborhood for many years.
Miller recently has embraced the author, establishing an annual festival and a pocket park on Lake Street with Algren quotes, like "The end is nothing. The road is all."
Miller's new Nelson Algren Museum features movie posters, historical timelines and a facsimile of the bicycle he rode around Miller Beach and Chicago's then far more hardscrabble Wicker Park neighborhood. It also features Algren's desk, chair and the typewrite on which he pounded out the classic "The Man with the Golden Arm." 
Algren hated the movie version, refusing to be photographed in front of the Biograph Theater marquee when it was playing there, saying he didn't have anything to do with the adaptation, Shay said. He particularly didn't care for Sinatra performance of card dealer and drummer Frankie Machine, who struggled with heroin addition.
"He said Sinatra played the part of Frankie Machine as if he were getting over a summer cold," Shay said at the museum's opening.
The museum will host scholar Richard Bales and artist David Csicsko at 3 p.m. Sunday for a discussion on "Simone de Beauvoir, Nelson Algren and his Poetry." Tickets are $10, and wine and beer will be available for purchase.
Miller's Nelson Algren Museum is open during special events or by appointment.