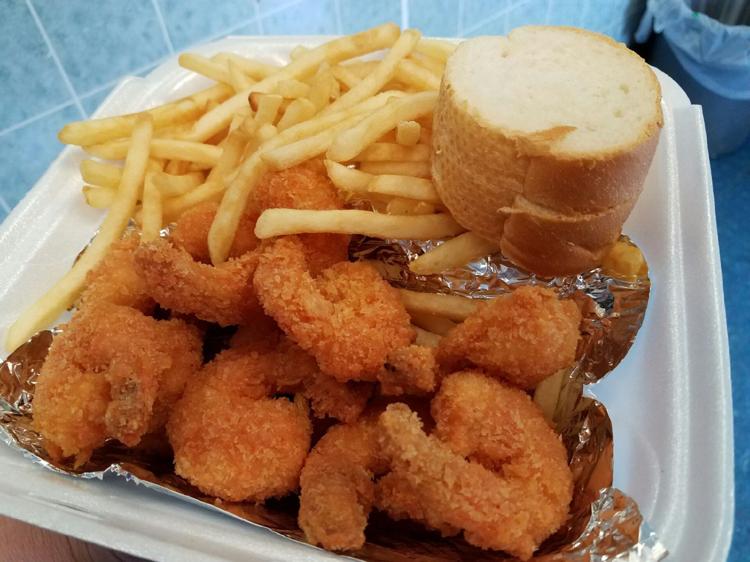 Food lovers with a craving for seafood may want to visit a local fish house for a sample of its fare.
Harbor Point Shrimp House & Seafood, located in Burnham, Illinois, features a varied menu starring everything from shrimp, lobster and jambalaya to chicken wings, red beans and rice and assorted desserts.
The restaurant, which features only carry-out, is housed in a small building. After surveying the menu on the wall, customers walk up to the counter to place their orders. Most orders are prepared in a timely fashion.
During a recent visit to Harbor Point, we didn't have to wait very long for the food to be prepared. For our early dinner on a recent Sunday afternoon, we ordered the Shrimp Dinner ($8.65) and a Tilapia Dinner ($6).
Both preparations were fried and served with French fries, a roll and a side. As our side, we chose coleslaw, but potato salad was also available.
Both the shrimp and tilapia had a medium batter, nothing too heavy or greasy. The meals were flavorful and were served in ample portions.
Harbor Point is located on normally busy Torrence Avenue. It's not far from the recently opened Torrence Avenue bridge, which has been closed for nearly two years. Seafood fans and the operators of the business, I'm sure, are pleased to have the bridge back in working order making the eatery more accessible to people.
Among menu items at Harbor Point are Orange Roughy Dinners ($9); Jumbo Chicken Wing Dinners ( $5.75); Crab Chips Dinners ($9.15); Catfish Dinners ($7); and more.
Also featured are Lobster Mac and Cheese, ($5.95); Fried Lobster Tails ($28.50); Seafood Gumbo ($5.50 and $10.50); Fried Alligator ($8.20 for small); as well as assorted desserts and sides.
Various cakes for $3.95 a slice and Key Lime Pie, Cheesecake and more are available.
Additional items to accompany a dinner include fried okra, fried mushrooms and fried clam strips among other dishes.
Seafood fans may easily get hooked on the menu here.