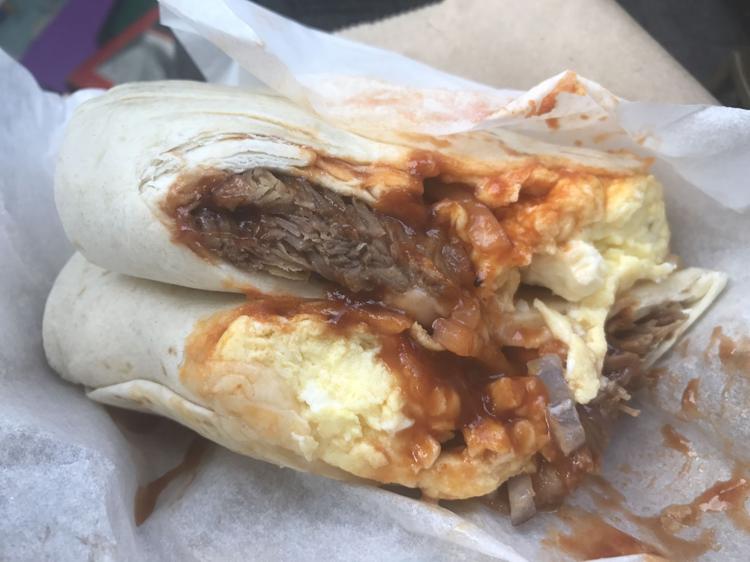 Grindhouse Cafe, 146 N. Broad St. in Griffith, caffeinates the Region with an ever-changing variety of potent coffee drinks that will power you through your day.
Its creative menu frequently changes and has included beverages like whisky barrel-aged iced coffee, the surrealist "Laura Palmer" that blended lemonade and espresso, a "Sproh Rootie" root beer with two shots of espresso, the "St. Patrick Sajak" white chocolate and peppermint latte and the "Southside Parade" Irish cream latte.
The #grINDiana "coffee monsters" at Grindhouse serve up freshly roasted Metropolis and Dark Matter coffee, including in pour-overs that "bring out all the notes notes notes notes notes."
The kinetic creativity at Grindhouse spills over into the food menu, both in the food truck and the funky, eclectic cafe. It's a hip space filled with concert fliers, action figures, zines and locally roasted coffee beans that has an excellent selection of sandwiches and regular specials like the Duck Bacon BLT.
The quirky coffee shop has an underappreciated breakfast menu where everything is $5.50 from 7 a.m. to 10:30 a.m. Try the Local 1010 Burrito that pays homage to the legendary union that's long represented workers at ArcelorMittal Indiana Harbor.
It's a meal fit for a steelworker with a hearty helping of egg and BBQ pulled pork. Sharp cheddar and red onion make it tangy. Sriracha gives it a kick.
The only thing better than breakfast is breakfast in burrito form, and the only thing better than that is if you can wash it down with a bespoke Grindhouse coffee.
Stay up-to-date on what's happening
Receive the latest in local entertainment news in your inbox weekly!