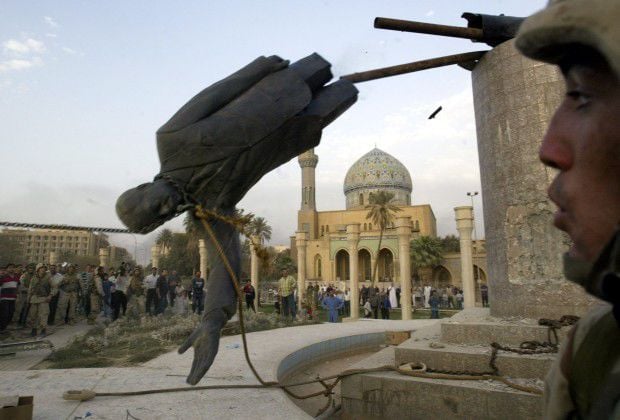 Antiwar veterans will mark the 15th anniversary of the Iraq War in Michigan City this weekend.
Sergio Kochergin and Vince Emanuele, decorated Marine Corps veterans who fought in the same unit in the Iraq War, will host "The Iraq War — 15 Years Later" at the Politics Arts Roots and Culture Community Center they started in Michigan City.
The free public event will take place at 5 p.m. Saturday at P.A.R.C. at 1713 Franklin St., south of downtown Michigan City.
"Join antiwar veterans, artists and musicians for an evening of live music, art and conversation to commemorate the 15th anniversary of the Iraq War," organizers said in a news release.
"Today, the U.S. maintains thousands of troops and a dozen of military bases throughout the country, with no end of combat operations in sight. Recently, seven airmen were killed when a helicopter crashed in Al Qaim, located in Iraq's Western Al Anbar Province. Since 2003, millions of Iraqis have been displaced and killed as a result of the war, while thousands of U.S. veterans have died from combat-related injuries or suicide. According to Brown University, more than $5.6 trillion dollars has been spent on the war. Let's hear from the men and women who've participated in the war and come home to speak out against it."
Attendees can see art by local veterans at the community cultural center and progressive organizing space and hear a musical performance by Chicago artist Nicky Bee and local musician Ron Buffington. Speakers will include Kochergin, Emanuele and Aaron Hughes, who deployed for 15 months to Kuwait and Iraq with the 1244th Transportation Company Illinois Army National Guard. Hughes is now a Chicago-based artist, teacher and organizer who works with a number of veterans and activist organizations.