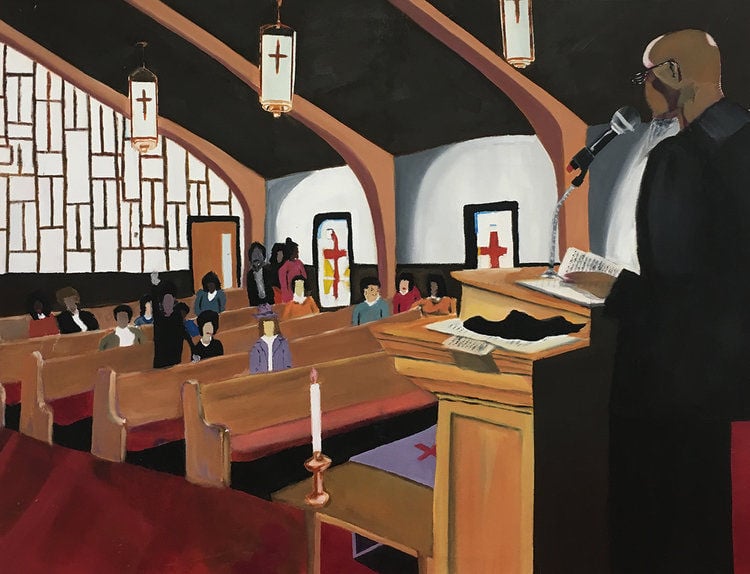 Gary-based artist Jesse Johnson is exhibiting the work of artists he represents at his BESS Art Exposure gallery in Merrillville at the South Shore Arts Substation No. 9 in downtown Hammond.
"Around the World in 60 Days: Work by the Artists of BESS Art Exposure" is on display at the gallery at 435 Fayette Street through the end of January.
"It's artists both from around the world and local choosing what they want to show," Johnson said. "It represents the cultural diversity of different artists from around the world. It's the thought that any artist can jump in on it. It's to bring together black and white artists. I don't believe in race, just the human race. I want to make that connection to each other where we have more dialogue and we can talk about each other's work and compliment each other."
The exhibit features the work of BESS Art Exposure-represented artists like Johnson, Kenard Jackson, Maurice Hodo, Afi Ese, Devante Mosby, Georgia Fox Hatfield, Meghan Latta, Miersma Quinn, Hope Villarreaul-Sams, Savannah Braman, Amanda Gemeinhart, Allie Hill, and Nia'Simone Montgomery.
He hopes the exhibition will appeal to everyone.
"People say they don't like art," Johnson said. "Well, why are you wearing clothes? Someone designed that. Why are you living in a house? Someone designed that. Why are you driving in a car? Someone designed that. Everything we deal with in life is art. The funny thing is when people with tattoos all over their body say they don't like art. They must have fallen asleep when someone was drawing all over you."