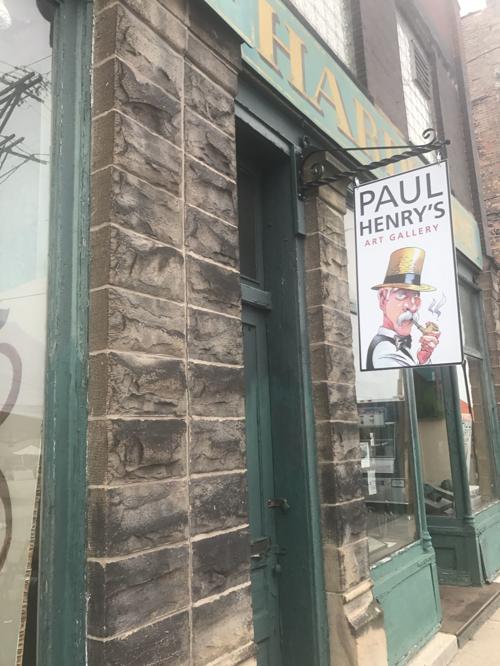 The "Art of Resistance & Resilience in NW Indiana" exhibit about environmental and social justice debuted at the Uri-Eichen Gallery in Chicago's Pilsen neighborhood in March.
Now the expansive retrospective about activism in the Region is coming to Northwest Indiana.
The exhibit that features the artwork of Corey Hagelberg, Thomas Frank, Kay Rosen, Tom Torluemke and other homegrown artists has an opening reception from 5  to 9 p.m. Saturday at Paul Henry's at 416 Sibley Street.
"Ranging from protest noisemakers to the work of recognized artists, this exhibit captures many forms of resistance, from posters, signs, and banners to community resilience through music, poetry, and street theater," Paul Henry's said in a new release. "Noted artist Corey Hagelberg will share a few of his striking wood cuts, including The Birth of Ecology, his newest. David Stocker will present his colorful puppets and street theater art. Thomas Frank, environmental activist, has designed and collected an array of protest art through participatory art builds with communities in struggle. They cover the battle against BP and fossil fuels to the crisis in East Chicago where an entire community has been poisoned."
The 19th-century hardware store-turned-art-gallery-and-music-venue in downtown Hammond will showcase hand-painted signs from political activists and the work of many Region artists, including stencils of poems Gary's Calumet Artist Residency painted on buildings last year as part of the Gary Poetry Project.
"The program will highlight the victorious Goshen battle against an immigrant prison, the ongoing protests against deportations at the Gary Airport, and the East Chicago struggle against lead and arsenic," Paul Henry's said in a news release. "Spoken word performances are scheduled which will capture the spirit of NW Indiana's fight against injustice with spirited verse and music."
The exhibit, which will run for about a month, is free and open to the public.
For more information, call 219-678-5015 or find Paul Henry's on Facebook.