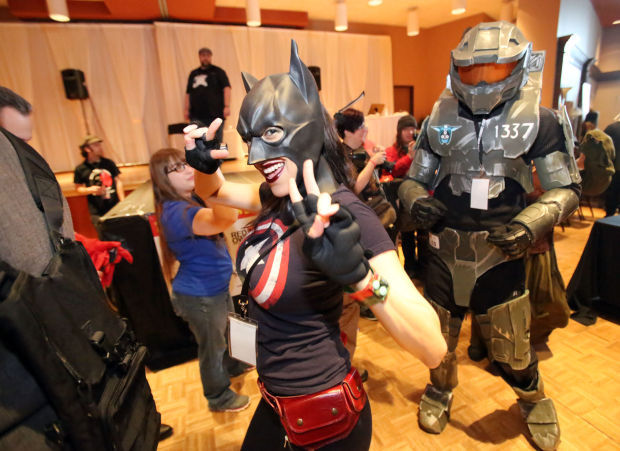 SCHERERVILLE — Get ready to see Deadpool and Kylo Ren cosplayers, comic book artists and more at the wildly popular NWI Comic-Con, which returns Saturday to the Halls of St. George in Schererville.
Comic book lovers, families and people who appreciate pop culture spectacle are expected to flock to Comic-Con, which runs from 11 a.m. to 7 p.m. in the banquet hall at 905 E. Joliet St. Founder and showrunner Brian Grabinski and his wife, Kelly Grabinski, orchestrated the NWI Comic-Con, now in its third year, as a more convenient, cheaper alternative to bigger Comic-Cons in Chicago and Indianapolis.
The NWI Comic-Con features artists, comics dealers and contests for cosplay, which is when people dress up as superheros and other pop culture figures. It grew from 2,000 attendees when it debuted in 2014 to 3,000 last year.
Brian Grabinski chalks it up to the event being "family-friendly, affordable and fun."
"Due to our affordable admission of $8 for adults and $2 for kids 12 and younger combined with free parking, we continue to take the Northwest Indiana by storm and our growth has been exponential," he said. "Will we hit 4,000 attendees at the 2016 NWI Comic-Con? Only time will tell. But I will say that no matter if you are 6 or 60, you will have fun at this event."
VIP guests include Gene Ha, Elliott Serrano, Michael Moreci, Bill Reinhold, K. Lynn Smith, Mike Norton, Tim Seeley, Hilary Barta, Jim Terry, Cory Hamscher and Philo Barnhart. 
Hamscher, a Valparaiso native and comic artist who's worked on "Avengers Academy," "Marvel Adventures," "Spider-Man," and "X-Men Forever," will encourage audience members to create superheroes or villains at a live "Create-A-Character" segment. The two winning characters will be available for purchase, with all proceeds going to the Northwest Indiana Cancer Kids and the Humane Society Calumet Area.
"Not everybody has a budget for the larger comic book conventions that take place in Chicago and Indianapolis," Grabinski said. "On average the larger shows can cost you $20 for admission, $20 to park and potentially $20 for food from the on-site vendors. If you just paid $60 to get in the door, park your car and eat some lunch, then how much do you have left over to spend on comics, collectibles and artwork?"
More than 100 exhibitors will attend, including small press publishers, artists, artisans and pop culture dealers. There will be a wide selection of comics, graphic novels, collectibles, action figures, prop weapons, stuffed animals and more.
Anyone interested in learning about writing, coloring or crowdfunding could benefit from the live speaking panels "Creating Comics With The Pros." And the Northwest Indiana band Underground Prophets will play '80s New Wave, '80s Hair Metal, '90s College Rock and current hits throughout the day.
A fan favorite is the cosplay competition, where six judges will decide winners in teen and adult categories.
"This live onstage event is fantastic for everyone involved, both participants and attendees," he said. "The amount of work and details put into these costumes is pretty amazing and definitely worth checking out."