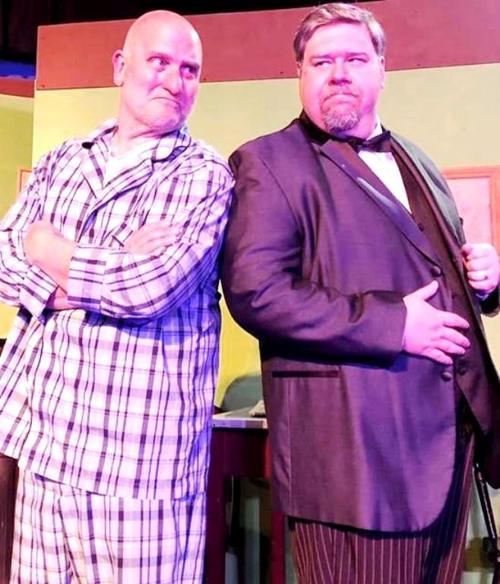 After their theater productions have been absent for the last year, L'arc en Ciel Theatre Group founders and husband/wife directors Paul and Angie Lowe are excited to get back to doing what they do -- bringing live theater back to the Region.
Now in their 16th year of residence at Great Oaks Banquet Hall and after 38 years of directing for LCTG at Lake Central High School, the Lowes are happily back in action for their 55th season together.
The new production -- Neil Simon's "The Sunshine Boys" -- was scheduled for last season, but had to be postponed. "This is one of our favorite shows and we are very grateful to have the cast return to pick up rehearsing again, and to discover after the first few rehearsals they fell back into their stride after 13 months away," said Angie. "We first directed 'The Sunshine Boys' in the early 2000's and we could hardly wait to direct this show again." added Paul.
The Lowes feel a special connection to this production as they shared fond memories of seeing this comedy on Broadway in the early '70s, then starring the late greats Jack Albertson and Sam Levene.
There will be a total of four presentations -- May 15, 21, 22 and 23.
"Tom McAdams, is our benefactor at Great Oaks and provides us with a wonderful venue to present our productions," Angie said. "Every L'arc Ciel performance is packaged with a pre-show dinner. We are the only full time dinner theater in the Region. Tom provides a wonderful dinner and his chicken is regionally famous."
The actors are more than ready to walk the "boards" of Great Oaks after such extensive down time. Cast in the lead roles are Bruce Jung and Jon Fetsch (both from Dyer ) who portray the old vaudeville comedy team of Al Lewis and Willie Clark. The storyline reveals the two had a falling out some years ago and haven't spoken to each other since.
Kyle Yung is featured as Ben Silverman, the nephew of Clark, who convinces his uncle to team up again with his old partner Lewis, and come "out of retirement" so to speak, for a comedy special to be aired on CBS television. It takes some convincing, but the two old comedians reluctantly agree and that's when the fur flies.
It turns out that Lewis and Clark are still a hoot in their famous "doctor sketch," which includes a patient, a "sexy" nurse, and a stage manager played respectively by Mark McColley, Diana Smoot, and Bob Ince. Kathie Rosdil rounds out the cast as the "real" registered nurse in the final scene. Yung and Rosdil are from Crown Point, and Ince is from Highland, while Smoot and McColley both hail from Porter County.
The veteran directors say they are very grateful to Kathie Rosdil, who agreed to join the cast for the rescheduled dates, replacing her personal friend Jackie Verdeyen whose reaction to the Covid vaccination prevented her from doing the role as originally planned. Both Verdeyen (then) and Rosdil (now) were eager to reunite with Bruce Jung who played their baby brother Mel Edison in an earlier Neil Simon LCTG comedy "Prisoner of Second Avenue," more than 10 years ago.
The veteran directors strongly request patrons attending any of the 'The Sunshine Boys' performances continue to follow COVID precautions and wear facial masks while in the theater.