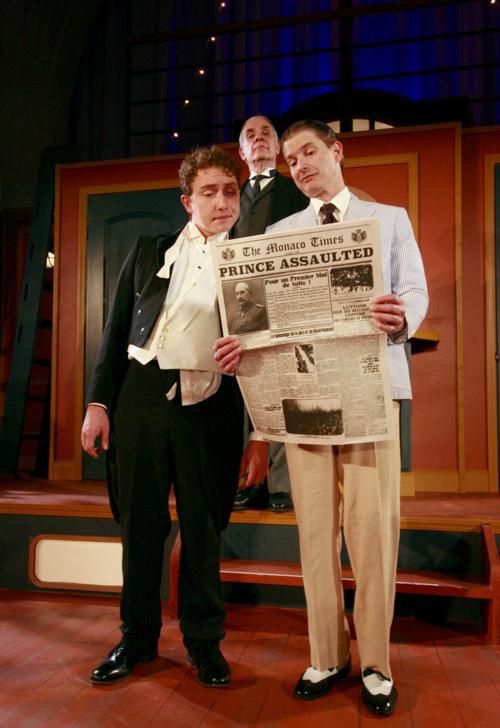 If PBS's addictive and wildly popular "Downton Abbey" has whetted your appetite for British wit, plot intrigue, and fabulous period settings and clothes, head west and north for some frothy dramatic fare.
First Folio Theatre presents a delightful romp aboard ship in 1920s Monte Carlo, at the Mayslake Peabody Estate in Oak Brook, featuring the hapless but engaging wealthy layabout, Bertram Wooster, and his absurdly knowledgeable and unflappable valet, Jeeves, a true "gentleman's gentleman."
Though few may ever match the droll characters portrayed in the 1990s PBS episodes by Hugh Laurie (yes, of "House") as Bertie, and Stephen Fry as a dry, brilliant Jeeves, Christian Gray nonetheless embodies the shallow but dear Bertie with comic skill, and Jim McCance's Jeeves subtlely garners all the laughs with his impeccable timing. The talented Gray is also a master of dramatic roles, thrilling audiences last October and in 2012 in the title role of First Folio's production of "The Madness of Edgar Allen Poe" -- a must-see when it comes around again.
The plot, like all Jeeves/Wooster misadventures, barely matters; it is the comic dialogue and double entendres of the colorful characters that keep things hopping right to the neatly drawn ending.
Suffice it to say, Lady Stella, played by Kate McDermott like an elegantly comic Lady Mary of Downton, and stern Miss Pillbeam, done slyly and well by Whitney Morse, have their own agendas even while paying lip service to the gents around them. Delightfully distracting subplots abound, suffusing the champagne-soaked door-slamming with even more absurdity.
Invoking the British flavor of a different genre and era, Mercury Theater's world-premiere musical, "The Man Who Murdered Sherlock Holmes," is an engaging, fast-paced whodunit whose catchy tunes and clever lyrics don't detract from the story's devious plot and vaguely menacing Victorian atmosphere.
Yearning to write about other topics, Doyle decisively kills off his persnickety master of detection (remember the fight at Reichenbach Falls?) only to have his alter-ego appear in the flesh, demanding reinstatement and artfully "advising" Doyle as he aims to unravel the puzzle.
Inspired by the real-life mystery surrounding the actions -- or not -- of an Anglo-Indian solicitor in the case of "the Wyrley ripper," author Arthur Conan Doyle puts things to right by using the methods of his fictional character.
Viewers who enjoyed the ingenious 2015 PBS three-part series, "Arthur and George," will happily recognize the same story and characters in the musical, save for one key difference that infuses the entire production with charm -- the appearance of Holmes come to life, played to satisfying perfection with acerbic humor and a flawless British accent.
FYI: "Jeeves at Sea" will be performed at 8 p.m. Feb. 12, 17, 19, 24 and 26-27; 4 p.m. Feb. 13, 20 and 27; and 3 p.m. Feb. 11, 18, 25 and 28 at First Folio Theatre at Mayslake Peabody Estate Forest Preserve, 1717 W. 31st St., Oak Brook, Ill. Cost is $29 and $39 ($25 and $35, students and seniors). Call (630) 986-8067, email firstfolio@firstfolio.org or visit firstfolio.org.
FYI: "The Man Who Murdered Sherlock Holmes" will be performed at 8 p.m. Wednesdays through Saturdays and 3 p.m. Thursdays through Saturdays, through March 20 at Mercury Theater Chicago, 3745 N. Southport Ave., Chicago. Cost is $25 to $65. Call (773) 325-1700 or visit mercurytheaterchicago.com.