Fans look back fondly on Star Plaza Theatre as entertainment haven closes today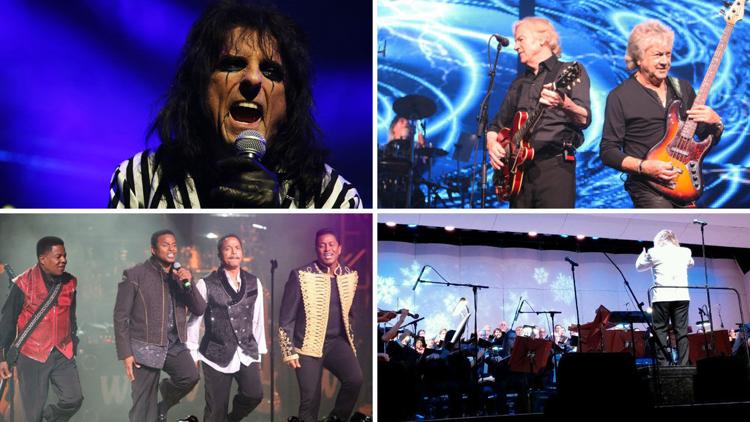 Rich Casler, of Pueblo, Colorado, formerly of Valparaiso
 "I've seen at least a dozen or more shows at Star Plaza Theatre. My favorite show was Weird Al in 1999. Hands down the most entertaining concert I've ever been to. I had already been a pretty big fan of his for a couple of years and I thought it was awesome he was playing a show so close to home. Other memories include: My grandparents took me to "Sesame Street Live" almost annually in the late '80s and early '90s. I also saw "Mortal Kombat Live" there in 1995."
Mary Ellen Burgess, of Crown Point
"I've seen too many shows at Star Plaza Theatre to list. I used to work there when it was known as The Holiday Star Theatre during the '80s. Working there gave me an appreciation and knowledge of all types of music from Liberace and the Osmonds to Iron Maiden and Aerosmith. I'll be attending The Oak Ridge Boys Christmas Show. Bruce White has invited past theater management with 3 plus years back to the theater for the last show and reception afterwards."
Sharon Croach, of Highland
"I've seen 30 plus shows at Star Plaza Theatre. My favorite show was The Osmonds. They performed as a family in 1981 and 1982. 1984 brought Donny & Marie and then Donny in 1989, along with a solo show by Marie. Totally enjoyed these shows. Other shows that stand out are Tom Jones, Rosemary Clooney with Debby Boone, Liberace, Engelbert, The Statlers, 4 Girls 4 (one of the first shows at the theater) - Excellent shows."
Marcia Glaros, of St. John
"My favorite show at Star Plaza Theatre was Tony Bennett. It was my parents anniversary and he sang my request for them" For Once in my Life" — their favorite song. I've also attended many symphony concerts there."
Anita Alvarez, of Las Vegas, Nevada, formerly of Chicago
"The memories from the Holiday Star Theatre are many but some that stand out are the comfortable room setting at the hotel. My favorite room was the corner one with the patio with the great view of the pool and lobby. I have memories of seeing some wonderful performances such as The Osmonds, Hall & Oates & Wayne Newton to name a few. Big thank you Star Plaza Theatre."
Yvonne Lewis, of Hobart
"I've seen at least 50 shows at Star Plaza Theatre. My favorite was Under the Streetlamp. The guys came out to meet their fans, gave autographs and took pictures. A great time with my daughter. Another show that stands out is Donna Summer. It was the first with my husband. I wish I could attend the Oak Ridge Boys show."
Andy Argyrakis, of Chicago and founder of ChicagoConcertReviews.com.
"Long before I was reviewing and photographing shows at the Star Plaza towards the end of the '90s through this final season, I attended several with my parents, including rock n' roll legend Dion. We even ran into him at the hotel's breakfast the following morning and he took the time to say hello and sign an autograph. And then of course I'll never forget covering so many meaningful artists from literally all genres, whether it was R&B icons Smokey Robinson, Patti LaBelle and The O'Jays, rockers as wide ranging as Alice Cooper, Morrissey and UFO, plus country and Christian favorites like Kenny Rogers, Wynonna Judd and Michael W. Smith. But perhaps more than any of them all, The Jacksons' historic homecoming stands out as my ultimate highlight and yet another example of the Star Plaza's ability to book the biggest and best acts in its time."
Nick Mantis, of Schererville
"I do consider myself the "Official Videographer" for the Star Plaza Theatre having filmed every Northwest Indiana Symphony Orchestra show, Indiana Ballet Theatre production and Star Productions community theater events since the early 2000s. My perspective through my camera lens was to enjoy the show within the show. For instance, filming Maestro Muspratt memorizing his many cues to take place for the night's concert or capturing a young girl backstage preparing nervously to perform ballet in front of a packed theater for the first time or in the dressing room watching two actors rehearse their lines before the show. And as I enjoyed this unique perspective of filming that which isn't always on the stage I will always cherish the memory of filming on stage. I remember being behind a stage curtain during an Andy Williams show where hundreds of senior citizens were "glowing with happiness" the moment that was taking place in front of them. It brought a tear to my eye and sadness to my heart that we may never have a theater in the Region that will match the impact the Star Plaza Theatre had on so many people's lives. Thank you Dean White and Bill Wellman for taking the risk and building such a wonderful venue that you shared with all of us."