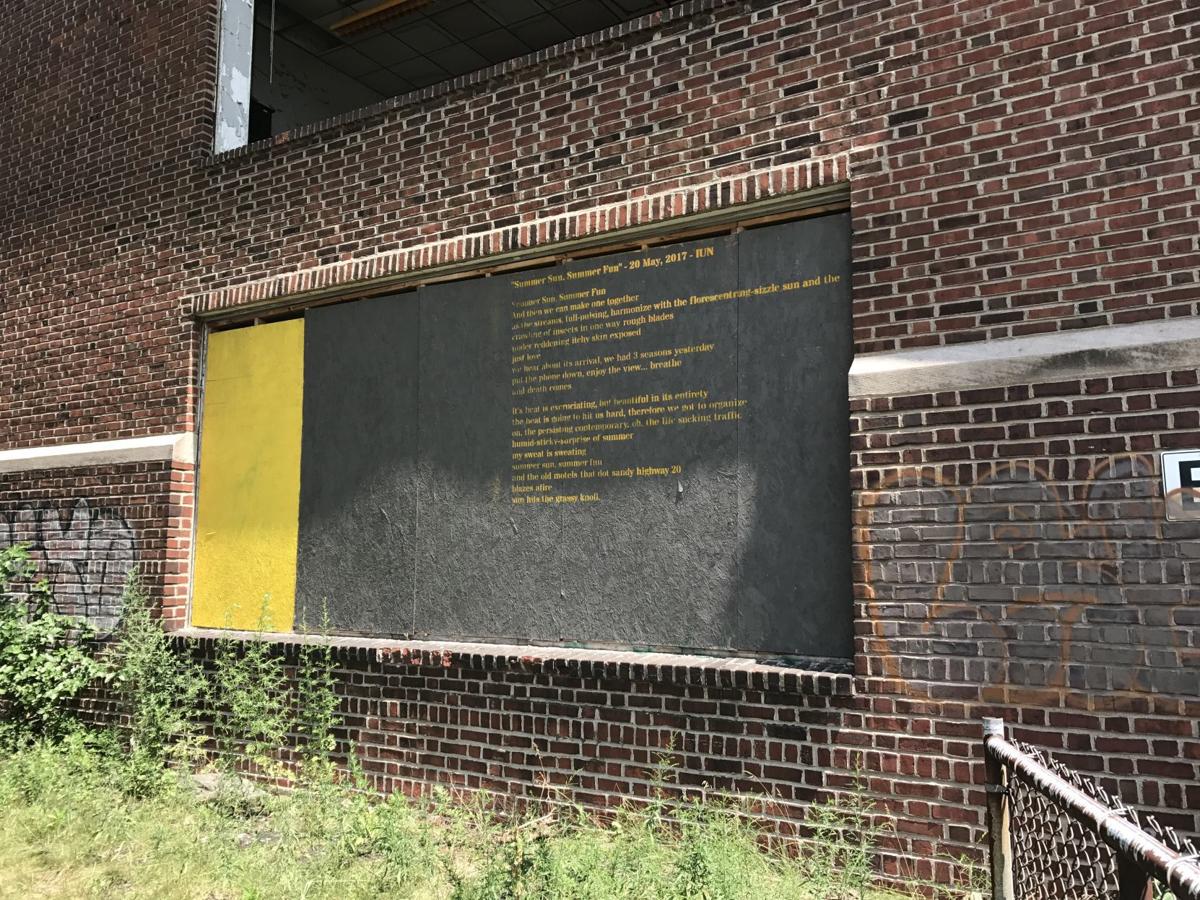 Gary's collegiate-looking Emerson High School educated students for nearly a century and was the first to use William Wirt's pioneering Work-Study-Play system of education that was intended to develop the "whole child."
But the building was closed in 2008. Now it's covered in graffiti and rotting away. Textbooks molder outside in the grass. Windows are smashed out. Classroom roofs are collapsing. A violin case and a box of floppy disks sit near the empty basketball courts long since stripped clean of any metal that could be sold for scrap.
But the Gary Poetry Project, a Calumet Artist Residency project that seeks to improve the city with poetry, has come to the rescue of the dilapidated building.
Gary Poetry Project volunteers have been boarding up windows of the former high school and covering them with verse by Gary poets, such as the poem "What the Sign Sees."
"The walkers, with garments on, holes placed/in peculiar places look up at me daily," the poem reads. "A simple tap on the shoulder to point in/amazement of creative compassion/smiles I see are what make me special/where are you going? Where do you want to go?"
Calumet Artist Residency Secretary Sam Love said the hope was to take care of a largely abandoned block that was only home to a church with an urban garden to feed the needy and a single resident.
The Gary Poetry Project is inviting the public to check out the poetry-covered high school. It's having a free poetry workshop from 10 a.m. to noon at ArtHouse: A Social Kitchen, 411 E. Fifth Ave., just south of the U.S. Steel Yard.
"Afterwards, take a short walk to the old Emerson High School building to see the Gary poems we've painted on the board ups with help from our friends at Progressive Community Church," Love said. "They are holding a back to school giveaway that afternoon and have their Faith Farms in operation so come enjoy a late summer day and see what's good in the neighborhood."