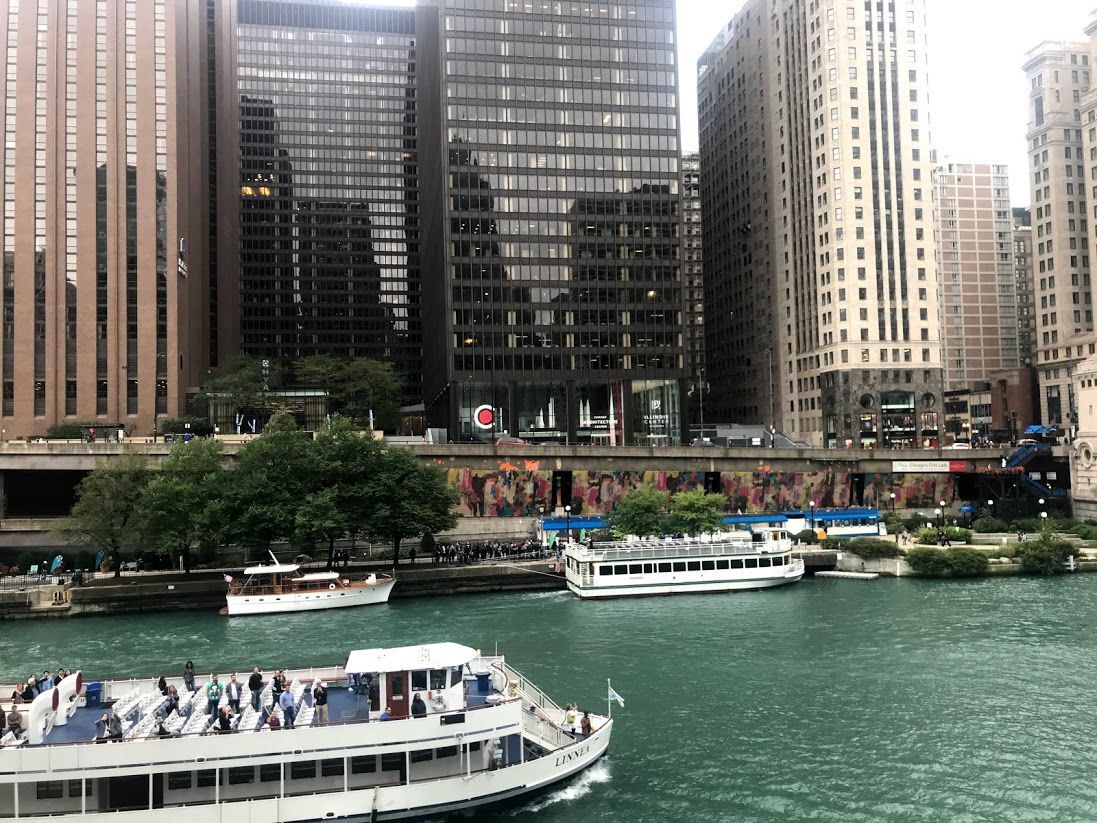 The Chicago Architecture Foundation Center's architecture tours along the Chicago River return this week.
The Chicago First Lady Cruises – where people are seated on an outdoor open-air deck amid a glittering, glassy forest of skyscrapers along the river – will set sail for the season on Saturday.
"Ranked the #1 boat tour in Chicago based on TripAdvisor user reviews, the 90-minute CAFC River Cruise is the most in-depth, authentic architecture river cruise available and is lauded as a 'must-do' activity when visiting Chicago," the Chicago Architecture Foundation said in a press release. "Exciting new buildings with cutting edge design elements continue to rise along the river including the recently completed St. Regis (Vista) Tower, the city's third-tallest structure, and the refurbished riverfront Old Post Office. Tour guests will leave the cruise inspired by the city's wide variety of architectural styles—which glide by as you travel down all three branches of the Chicago River—including art deco, neoclassicism, mid-century modernism, and postmodernism."
Coronavirus precautions will be taken, including mandatory masks and enhanced cleaning procures.
The popular river tour is now in its 28th year. The 90-minute trip through downtown Chicago offers in-depth explanation of the city's architectural heritage, 360-degree views of the city's towering skyscrapers, and countless photo opportunities to splash across Instagram and other social media sites.
The boat passes by many prominent buildings like the Merchandise Mart, the Marina Towers, the Wrigley Building, Tribune Tower, 150 N. Riverside, the Leo Burnett Building and the Mather Tower with a docent explaining the history and architectural features of the passing buildings.
Cruises depart every hour between 11 a.m. and 6 p.m. during the first two weekends between April 17 and April 25. Then on April 30, the cruises will depart hourly every weekend between 11 a.m. and 4 p.m.
More cruise days and departure times are expected to be added as more people get vaccinated against COVID-19 and health metrics improve in Chicago and Illinois.
The cruises depart from the Chicago's First Lady dock on Chicago's Riverwalk at Michigan Avenue and Wacker Drive. Discounted parking is available at 11 East Wacker Drive.
The Chicago Architecture Center galleries will be reopened to the public between 10 a.m. and 4 p.m. Friday through Saturday starting on May 22.
Tickets start at $51. For tickets, visit ticketmaster.com/rivercruise, call 1-800-982-2787 or visit the dockside box office on the Riverwalk or the Chicago Architecture Center Box at 111 East Wacker Drive.