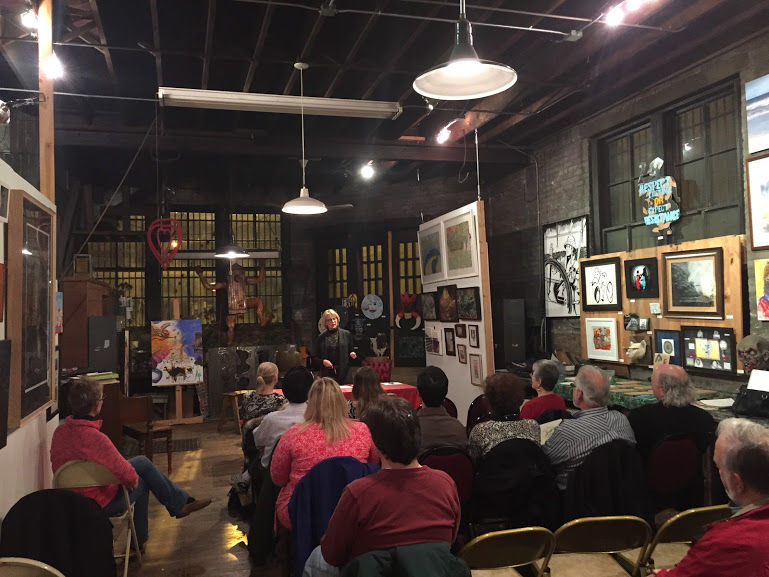 Paul Henry's Art Gallery, the 19th-century hardware store-turned-art gallery in downtown Hammond, is displaying a new show called "Cogitating the Inscrutable."
The exhibit at 416 Sibley features the work of artists Rick Therrio and Ken Wolak.
"The intense style and complex composition of over 70 pieces from the artists challenge viewers to make close inspection of the display," Paul Henry's said in a news release. "Drawing heavily on surreal and fantasy themes, the bold color palette selected and detailed elements packed into each work give an overall sense of wonder and excitement to the exhibit."
Upcoming concerts at the art gallery include acoustic jams will take place at 7 p.m. March 14, March 21, and March 28 with a $5 admission fee.
The Monthly Jazz Jam returns at 2 p.m. on March 16 with the Tom Matecki Quartet.
"Thomas Matecki brings his group to Paul Henry's to perform jazz standards and original music," Paul Henry's said in a news release. "The group will play the opening set and guest musicians and vocalists will be invited to join the band after the first set. Amplification will be provided."
It's $5 or free if you sit in as a musician.
Then at 1 p.m. on March 24, Ed Brann's Rumba De La Region Drum Ensemble will perform.
"Cuban Rumba is a drum ensemble style of music, created by multiple drummers playing individual rhythms, in a conversational arrangement," Paul Henry's said in a news release. "Join us in exploring these beautiful rhythms, and learn to speak with one another, through the drum."
And at 7 p.m. March 27, the Jazz Showcase with Andy Sutton's All Star Band will play an "extended, intense set of music with some of the finest players in the Region," including Johnny Alto, Nicholas Gerasimos Kazonis, Kris Lohn, Andy Sutton and Joe Marcinek.
Regular gallery hours are 11 a.m. to 5:30 p.m., Tuesday through Saturday.
For more information, call 219-678-5015.