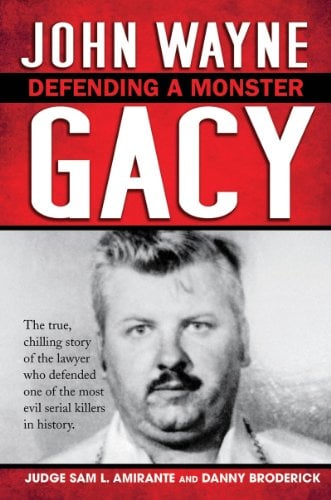 For Chicagoland, John Wayne Gacy's police mug shot remains a face that haunts many.
This killer, who adopted the alter-ego of Pogo the Clown to entertain with balloons and rope tricks at parties and charity events, was responsible for the heinous deaths of 33 young men and boys buried in the crawlspace of his Norwood neighborhood of Chicago.
For the first time, Gacy's then-lawyer, who is now Judge Sam Amirante, is telling his story of how he defended one of the worst serial killers in America's history in his new 403-page book called "Defending a Monster" ($24.95 Skyhorse Publishing), co-written by author Danny Broderick.
Amirante's publicist Lissy Peace is pitching the book by asking the question: "When was the last time someone you knew asked you for a favor and what if that favor was defending a man who you later discovered to be guilty of crimes so grotesque they make your blood curdle?"
The question of "How do you guarantee a fair trial without the influence of hate, revenge, media or an outraged public?" is the foundation of the book, which is written in the lawyer's first-person account and even has the reader reliving the last horrifying hours of Gacy's final victim.
I'm told the book is also filled with rare photography and never-before-seen drawings to help recreate the events of the crime, trial and conviction which captured the front page of newspapers for months.
Among the riveting, unexplored topics examined:
• Amirante's experiences at the time as a young lawyer, fresh from the public defender's office, given a case with details that seemed unimaginable.
• Court documents and letters and drawings by Gacy to his friends and family.
• The creative approaches taken to ensure that even a mass murderer received the fair trial guaranteed to him by the U.S. Constitution.
• How Amirante sought to protect children with the Missing Child Recovery Act of 1984 (I-Search) to protect future abducted children from succumbing to a fate like Gacy's victims and eliminated the 24-hour waiting period to initiate a search for lost children.
• The current status of the death penalty in the United States.
Amirante is a retired judge and current lawyer with his own law firm, Sam L. Amirante & Associates.
In 1978, his first case after leaving the office of the public defender was The People of the state of Illinois vs. John Wayne Gacy. In 1988, he was appointed to the bench as an associate judge of The Circuit Court of Cook County where he served until his retirement in 2005.
A graduate of Loyola University (1970) and Loyola University School of Law (1974), he also served in the United States Marine Corps Reserves from 1970 to 1976.
The authors will be signing and discussing their new book at 7:30 p.m. Tuesday at Barnes & Noble, 55 Old Orchard Center in Skokie, Ill. FYI: (847) 676-2230
Gacy was age 52 when executed by lethal injection in May 1996, at Stateville Correctional Center in Crest Hill, Ill.
He spent his final years in prison painting clown pictures and autographing previously shot photos of himself as his clown alter ego Pogo, all items sold as curiosities to oddly fascinated collectors of such morbid memorabilia.
The opinions expressed are solely those of the writer. He can be reached at philip.potempa@nwi.com or (219) 852-4327.