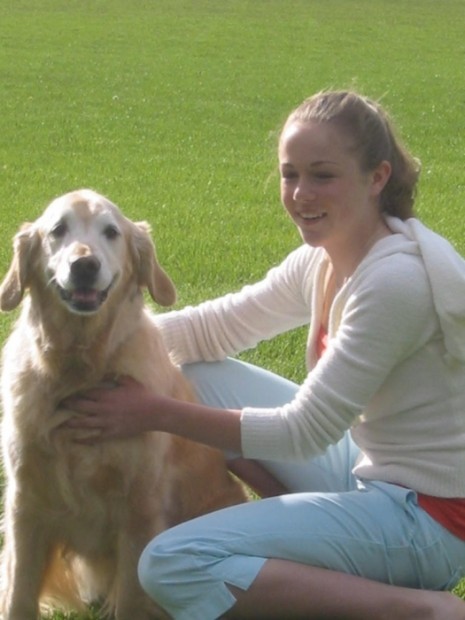 Kelly Voigt, 19, a sophomore at Valparaiso University, has  accomplished much during the past decade.
Voigt, who hails from Palatine, Ill., runs her own nonprofit foundation called Prevent the Bite and is dedicated to raising awareness and encouraging education about the danger of dog bites, especially for children.
Voigt speaks from her own unfortunate experience.
At age 7, she was about to pet her neighbor's dog, a Siberian Husky she had interacted with in the past without concern, when she was attacked and bitten on her face and throat. The tragedy resulted in more than 100 stitches and plastic surgery.
She told me it was her own continued fears as a child a year later, intensified by post-traumatic stress and depression, which prompted the idea for her to use her own personal story to help prevent others from suffering the same fate.
"It was my therapist I was seeing at the time after what happened, who suggested it would be good for me to talk to others about what happened," Voigt said.
"And 10 years later, it's still my mission."
By age 12, she was a guest on Oprah Winfrey's talk show and was thrilled to meet the media maven.
"I found out Oprah's favorite color is orange," Voigt said.
She's also been featured on NBC's "Today" show three times, including her first appearance at age 13, when she was interviewed by Katie Couric.
By age 15, she was back in New York on "Today," interviewed this time by Meredith Vieira and Matt Lauer.
And by the age of 16, her face was all over the back of bags of Dorito Chips, after her charity was selected to be billboarded on packaging to help spread the word of her worthy cause.
Today, her foundation's website, found at preventthebite.org, helps share vital information and statistics, in addition to providing downloadable coloring sheets to warn children and parents of the possibilities of an adverse encounter with a canine.
"My mom Kathy and I began doing research and together with experts, including a school psychologist and animal-assisted therapist, we created a dog bite prevention program geared toward children," Voigt said.
"Since the age of 8, I have been going to schools, health fairs, and libraries teaching kids canine body language, basic safety techniques and responsible dog ownership," she said.
Voigt said every year 4.7 million people are bitten by a dog in the United States. And from 1993 to 2008, she said there was an 86 percent increase in dog bite-related hospital stays.
"Our funding efforts continue to create a video that can be used as a guide to our lesson plan and as a stand-alone educational tool," she said.
"The goal is to make our information available to anyone who is as determined as my mom and I to lower the incidence of dog attacks to children."
The opinions expressed are solely those of the writer. He can be reached at philip.potempa@nwi.com or (219) 852-4327.