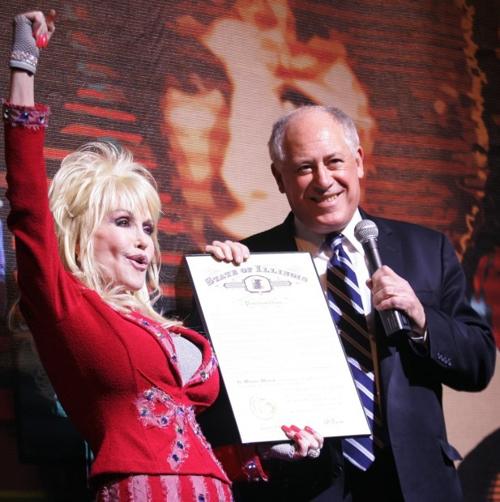 While Chicago Mayor Richard Daley and wife Maggie were at the White House with President Barack Obama and First Lady Michelle having dinner Wednesday with China's president Hu Jintao, Illinois Governor Pat Quinn was on stage at Bank of America Theatre in Chicago with Dolly Parton declaring it "Dolly Parton Day in the City of Chicago."
Parton, who turned 65 on Wednesday, wasn't collecting her first social security check.
Instead, she was honored with a beautiful plaque and plenty of applause by the surprised audience (and press) at the theater, gathered for the opening night of "9 to 5: The Musical," which features an original score of her songs. After a Broadway run, the show has been revamped by director and choreographer Jeff Calhoun and has been on a national tour since September. It's playing through Jan. 30 in Chicago.
The always gracious, smiling and genuine Parton walked a short red carpet into the theater prior to the show and briefly met with media, before joining Quinn on stage for the presentation before the curtain went up.
"I just flew in last night from Atlanta, where I'm filming a movie about gospel music with Queen Latifah called 'Joyful Noise,' " Parton explained.
"I love Chicago. And you know, I spent quite a bit of time here when I filmed the movie 'Straight Talk' here for Disney, about me playing a Chicago radio show host."
Parton was proud of Quinn's declaration of "Dolly Parton Day" and promised the audience she'd be back on stage at the end of the show.
"Now I'm going to come on out there and watch the play with you all," Parton said before disappearing behind the curtain.
"And remember, it's my birthday, so don't you be bothering me while I'm enjoying the show, and then I'll see you later."
Following the final bows by the  cast, Parton received another surprise when a large tiered chocolate birthday cake was brought to the stage, wheeled out on one of the office desks used as part of the show.
Decorated with sugar versions of Parton's trademark butterflies, as well as tiny typewriter keys, the three female cast leads, Dee Hoty, Mamie Parris and Diana DeGarmo, led the audience in singing "Happy Birthday" to the country music legend.
Not only was Parton in great spirits and full of energy, but she also looked great too, dressed in red and covered in sequins.
It was just three years ago this month that Parton wasn't feeling so great and had to postpone and reschedule her last visit to the Windy City.
Late in January 2008, Parton's doctors made her push back the kick-off for her national tour by two months, including what was supposed to be a Leap Year Feb 29 concert at The Chicago Theatre, which was later moved to April.
Her publicist Mitch Schneider explained the singer had a "back condition" and "her doctors advised the iconic American singer, songwriter, film star and entrepreneur to take six to eight weeks off to recover properly."
That tour was to launch her "Backwoods Barbie" album,  and the popular song of the same name, which is now featured in "9 to 5: The Musical."
The opinions expressed are solely those of the writer. He can be reached at philip.potempa@nwi.com or 219.852.4327.
Stay up-to-date on what's happening
Receive the latest in local entertainment news in your inbox weekly!