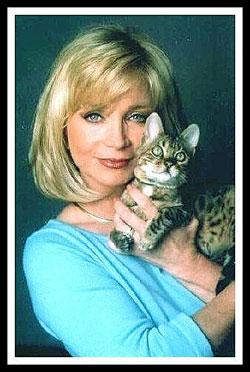 While my mom Peggy is spending lots of time at University of Chicago Hospital with me and our family following my father Chester's heart surgery Monday (see today's "From the Farm" column on the cover of this section), she's reading a copy of country singer Barbara Mandrell's 1990 autobiography "My Story" (which spent three months on the New York Times bestseller's list), which is helping her pass the time.
Mandrell, who will turn 60 next year, was always popular with region audiences.
In the 1980s, she performed at James Kubal's Midway Ballroom in Cedar Lake. She also was a favorite performer for the Star Plaza Theatre in Merrillville (her final appearance was in 1991 and one of her costumes is even framed and on display in the lobby). She retired in 1997, the same year she produced and starred in a television movie about her musical career and her near-fatal 1984 car crash.
As for her father Irby, who was always active assisting with the management of his daughters' careers, he's still alive and doing well after surviving three open-heart surgeries of his own. (Once my father is feeling better, he's also eager to read Mandrell's autobiography, especially this chapter about her father.)
Ironically, in "Get to the Heart: The Barbara Mandrell Story," which was based on the singer's own memoir, actress Maureen "Marcia Brady" McCormick, who I wrote about in Tuesday's column, played Mandrell.
I've interviewed Mandrell a number of times and taken my parents to meet her over the years, including performances locally, as well as in Branson, Mo., and Las Vegas.
Growing up, my family always watched Mandrell's popular weekly variety show she hosted with her sisters Louise (who performed at the LaPorte County Fair two summers ago) and Irlene.
As for Barbara's activities these days, she's definitely simplified her life since her performance days. Unlike her friend Loretta Lynn, who has always held on to the large colonial home and estate she worked so hard to build with her late husband Mooney (it's named Hurricane Mills), in the summer of 2002, Barbara and her devoted husband Ken held a large auction, including selling their 137-acre estate and colonial home (which they named Fontanel) located not far from downtown Nashville, for $2.1 million. She can now spend much more time with her husband and their three children Matthew, 37, Jaimie, 30 and Nathan, 23 and her pets.
The opinions expressed are solely those of the writer. He can be reached at ppotempa@nwitimes.com or 219.852.4327.
Famed political family spouse Ethel Kennedy is 80. Actor Joel Grey is 75. Actress Louise Lasser is 68. Pulitzer-winning newspaper columnist Ellen Goodman is 66. Actor Peter Riegert and actor Meshach Taylor ("Designing Women," "Dave's World") are 60. Actor Carl Franklin ("The Fantastic Journey") is 58. Actor Bill Irwin is 57. Country singer-songwriter Jim Lauderdale is 50. Country singer Steve Azar is 43. Former TV child commercial actor Mason Reese (The "borgasmord" pitchkid for Underwood Deviled Ham) is 42. Singer Lisa Stansfield is 41. Bassist Dylan Keefe of Marcy Playground is 37. Singer Joss Stone is 20.