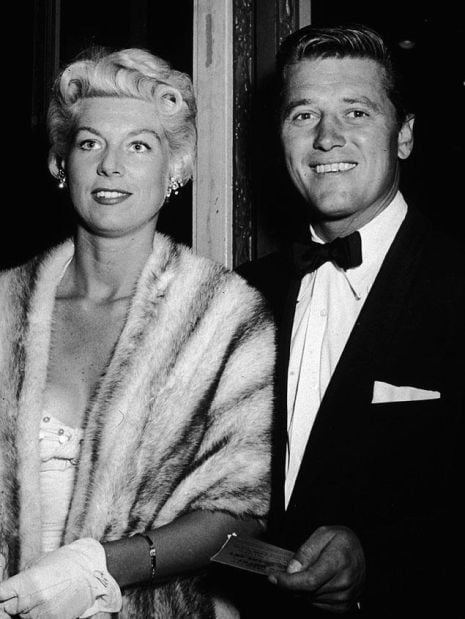 Actress Sheila MacRae, a veteran stage, film and TV performer best known for playing the "second" Alice Kramden for Jackie Gleason's 1960s re-creation of "The Honeymooners," died last week at age 92.
She died March 6 at Lillian Booth Actors Home in Englewood, N.J., MacRae's granddaughter, Allison Mullavey, told The Associated Press.
"She had a great life, my mom, she really did. She was quite a broad," said her daughter, actress Heather MacRae. "Fascinating, almost like an Auntie Mame character."
Her daughter said her mother suffered from dementia but was otherwise in good health and had only been hospitalized recently because of a minor surgical procedure. She said the death came suddenly Thursday night, "apparently the result of old age."
A singer, dancer and actress, MacRae was married to "Oklahoma!" and "Carousel" star Gordon MacRae for 26 years, and they appeared together in 1964 on "The Ed Sullivan Show" when the Beatles were featured.
She had put her career on hold while she devoted herself to MacRae and their four children, as was noted during her cameo role in a 1955 episode of CBS's "I Love Lucy" titled "The Fashion Show," which featured MacRae and fashion designer Don Loper as themselves inviting Lucy Ricardo to join other Hollywood wives to appear in a charity fashion show. The MacRaes divorced in 1967. After her divorce from Gordon, she was married to Ronald Wayne, who produced Gleason's show.
I never met MacRae. But there is a quality of candor about the actress, as hinted to by her daughter Heather, that still shines in my mind. After actress Esther Williams, who died just last year, published her autobiography in 1999 and Vanity Fair magazine printed an excerpt including a tale of Williams' beau, westerns actor Jeff Chandler, being a cross-dresser (and preferring polka dots), MacRae was livid. She wrote a letter to the magazine published in January 2000: "Jeff Chandler is long dead and not able to hire a counselor-at-law to keep him from being 'done in.' The way he was portrayed by Esther is as sad and rattling as anything I have ever seen. For Chandler's children and grandchildren, I want to offer the truth about Jeff, known to me from 1941 until his horrible death [at age 42] in 1961 at Culver City Hospital. As for his 'secret closet' [of women's clothes], if Ms. Williams had looked at the many dresses, shoes and lingerie, she would have seen the sizes were 5 and 6. I purchased most of them for the only love of his life, Marta Toren, the luminous foreign actress who died suddenly in 1957 and Jeff never got over it. Jeff was over 6 feet tall with huge arms, shoulders and legs like a football player and could never have worn such fragile duds by Valentino, Dior and Balenciago. Both Esther and I probably know another 100 untold tales of Hollywood, but I am not about to write them, and I hope they don't see print until 2100. Sincerely, Shelia Stephens MacRae, New York City."  
The opinions expressed are solely those of the writer. He can be reached at philip.potempa@nwi.com or (219) 852-4327.