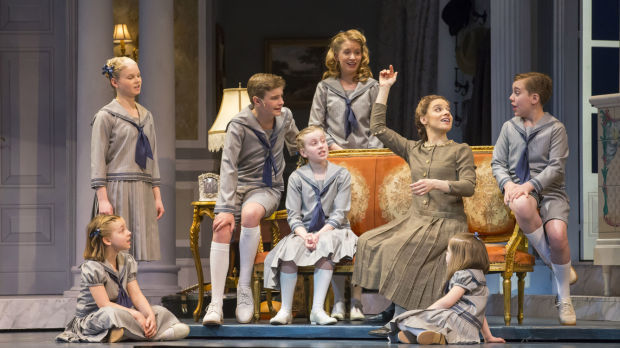 Lyric Opera of Chicago's new beautifully conceived and produced talent-packed production of Rodgers and Hammerstein's beloved Broadway musical "The Sound of Music" ranks as a timeless ticket.
However, it opened Sunday and it runs only until May 25 at the Civic Opera House, 20 N. Wacker Dr., so there's only a limited time to get tickets.
After attending Sunday's press opening, I've already snagged tickets to take my parents for Mother's Day weekend.
Since its debut on stage in 1959 and its 1965 film premiere, the iconic musical remains a beloved favorite with theater and music fans.
And even better, it's based on the true story of the von Trapp Family.
This all-star cast is led by Chicago actor Billy Zane, who was in James Cameron's international 1997 blockbuster "Titanic" and a critically acclaimed for his portrayal of Billy Flynn in Broadway's "Chicago," as Captain von Trapp and Broadway star Jenn Gambatese (who has garnered praise for her leading roles in "Wicked" and Disney's "Tarzan") as Maria.
True, it is the late, great Mary Martin who made the role of Maria one of her stage claim-to-fame, and Julie Andrews did the same in the big screen adaption.
But it is pert-yet-powerful Gambatese who now makes this role her own. She has a broad smile that matches her captivating performance that leaves the heart warmed and the spirited lifted with her every song note. Also featured are Broadway and TV veteran Edward Hibbert as impresario Max Detweiler opposite the calculating Elsa Schraeder as played by Elizabeth Futral (the latter who needs just a few degrees of more frigid persona).
Renowned operatic sopranos Christine Brewer fills the abby as Mother Abbess and the most famous stage brood of Broadway are the featured local talents Betsy Farrar (Liesl), Brady Tutton, (Friedrich), Julia Schweizer (Louisa), Michael Harp (Kurt), Isabelle Roberts (Brigitta), KyLee Hennes (Marta), Nicole Scimeca (Gretl), and Zach Sorrow (Rolf).
The new production is conducted by Rob Fisher in his Lyric debut and the on-the-mark perfect direction is by Marc Bruni, also enjoying his Lyric debut for this just under three-hour musical masterpiece, which includes two musical numbers featuring the Elsa character and not included in the film version.
Completing this amazing theater experience is the set design by Michael Yeargan, who has crafted so many spectacular, breath-taking backdrops, it nearly defies description. The flowing costume designs by Alejo Vietti in her Lyric debut paired with lighting design by Duane Schuler and sound design by Mark Grey complete this feast for the eyes and ears. Denis Jones in his Lyric debut offers the finest in choreography, with Michael Black as chorus master.
In addition to the stellar cast, 37 members of the Lyric Opera Orchestra are performing with a 25-member choral ensemble (including 12 members of the Lyric Opera Chorus).
The opinions expressed are solely those of the writer. He can be reached at philip.potempa@nwi.com or (219) 852-4327.