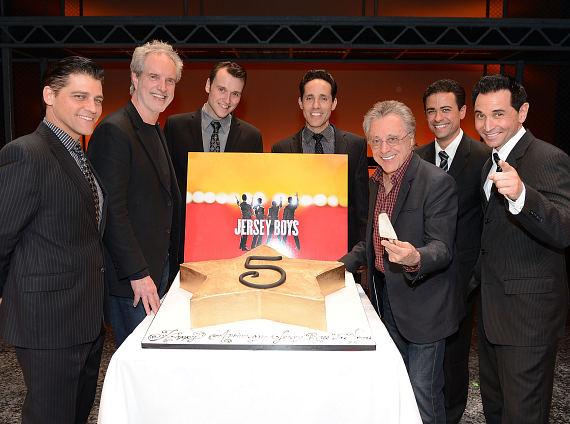 Editor's note: Columnist Philip Potempa is reporting from Las Vegas traveling this week.
It was in June 2012 when Star Plaza Theatre CEO and Talent Buyer Charlie Blum got his pal Frankie Valli to return to Chicago to do a one-night exclusive concert at The Chicago Theatre.
While he was in the Windy City, we also had a return run of the Broadway hit "Jersey Boys," the story of Valli's life and career, that was playing just down the street.
Picking just the right show to bring my parents to enjoy Thursday on the night of their 60th Wedding Anniversary while in Las Vegas was an easy selection, since they love the music of Valli.
On Thursday, March 21, 2013, the "Jersey Boys" production that's been happily nested in Sin City celebrated its fifth anniversary in Las Vegas by presenting a star to Valli and the Four Seasons on the "Las Vegas Walk of Stars" outside of the show's home at the Paris Las Vegas Hotel and Casino.
Last night (Saturday), Blum was beaming with his talented group Under the Streetlamp of former "Jersey Boys" castmates returning to his Star Plaza Theatre to tape their second PBS TV special. Blum is bringing Valli back to Chicago next month for another return exclusive concert 8 p.m. Oct. 5 back at the beautiful Chicago Theatre. Tickets are priced at $73.50, $83.50 and $103.50, and are available at The Chicago Theatre box office, all Ticketmaster outlets, (800) 745-3000 or thechicagotheatre.com.
"It was after our sold out Cincinnati, Ohio show in the spring, when I had dinner with Frankie and he confirmed that he would play in Chicago again," Blum said.
"It is the fifth time we have booked him at that venue. He also played Star Plaza Theatre a few years back as part of the Ingalls Hospital benefit. Phil, ironically, it was at the Frankie Valli show three years ago when you were in attendance that prior to the performance, I introduced the four leads of 'Jersey Boys' to Frankie Valli. These four guys evolved into Under The Streetlamp,' with me now managing their careers." Under the Streetlamp just played Las Vegas on Aug. 3 at Suncoast Hotel and Casino.
Las Vegas is a perfect home for "Jersey Boys," which has entertained guests in Vegas for nearly 2,000 performances since opening in 2008. I'm also told over the past five years, more than 2,000 hours have been spent maintaining wigs; 376,000 full cast costume changes have taken place; the stairs have been climbed 122,000 times; and more than one million cues have been called.
On the heels of the incredible success of the show worldwide, GK FILMS is currently in development on the feature film adaptation of the "Jersey Boys" musical. Set to begin production at the end of 2013, the film will be produced by GK FILMS' Graham King with Valli and Gaudio serving as executive producers.
"Jersey Boys" performs in the Paris Théâtre at Paris Las Vegas at 7 p.m. on Wednesdays, Thursdays, Fridays and Sundays and at 6:30 and 9:30 p.m. Tuesdays and 5 and 8:15 p.m. Saturdays and is dark on Monday. Ticket prices range from $48 to $168 plus all applicable taxes and LET fees. For additional information, visit JerseyBoysVegas.com.
The opinions expressed are solely those of the writer. He can be reached at philip.potempa@nwi.com or (219) 852-4327.