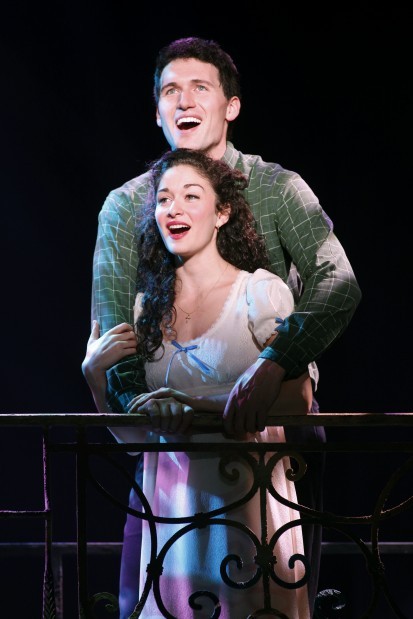 The last time Broadway In Chicago brought the national tour of "West Side Story" to the Windy City, it was in July 2011 for a run at Cadillac Palace Theatre.
It remains one of the stage favorites, which is why its return this week to Chicago for a quick visit just through Sunday will attract fans from near and far for this classic romance tale. At Tuesday's opening, there were audience members from as far as Michigan and Wisconsin in the house to relive the passion and thrills of the dance and drama of two rival gangs connected by lovers from different worlds that have more in common than realized.
Tony Award-winning librettist Arthur Laurents' Broadway direction is recreated for this tour by David Saint, who was the associate director on Broadway. The original Jerome Robbins choreography has been reproduced by Tony Award-nominee Joey McKneely.
But despite all of the credentials, this latest production, on stage this time at the Oriental Theatre, 24 W. Randolph, seems to lumber more than leap. Whether or not ticket-holders are fans of the big screen adaptation from 1961, starring Natalie Wood, Rita Moreno, George Chakiris and Russ Tamblyn, the assembled cast for this tour is not as strong as needed for such demanding roles.
For this turn, our star-crossed lovers are played by MaryJoanna Grisso, who fares better as Maria, than Addison Reid Coe comes off as her desired Tony. Their chemistry seems unconvincing and Coe, although possessing talented vocals, doesn't embody the character and personality implied for the duo's scenes.
The Leonard Bernstein and Stephen Sondheim score, considered to be one of Broadway's finest, features the classics  "Something's Coming," "Tonight," "America," "I Feel Pretty" and "Somewhere."
But some of the numbers are delivered in such haste, it's difficult to understand and appreciate the lyrics. This is especially true for "America," which has a wonderful exchange of funny banter peppered between versions, all of which were lost Tuesday. Even actress, Michelle Alves, who plays Anita and I loved her when introduced to her in the 2011 tour, seems to clip her lines too quickly this time around. But to Alves' credit, she still delivers the most spice and is far the most entertaining to watch while dancing.
Andres Acosta is solid as Maria's brother Bernardo, head of the Sharks gang and Theo Lencicki is his match for dance and grit as rival Riff. Actor Greg London as Doc, the owner of the teen hang-out, also seems lost in this neighborhood. Bridget Riley fills the bill nicely as the "kid sister" gang-member wannabe.
"West Side Story" features scenic designs by James Youmans and vibrant costumes by Tony Award nominee David C. Woolard, lighting by Tony Award winner Howell Binkley and sound design by Peter McBoyle.
Performances are 7:30 p.m. tonight and Friday, 2 and 8 p.m. Saturday and 2 and 7:30 p.m. Sunday.
The opinions expressed are solely those of the writer. He can be reached at philip.potempa@nwi.com or (219) 852-4327.