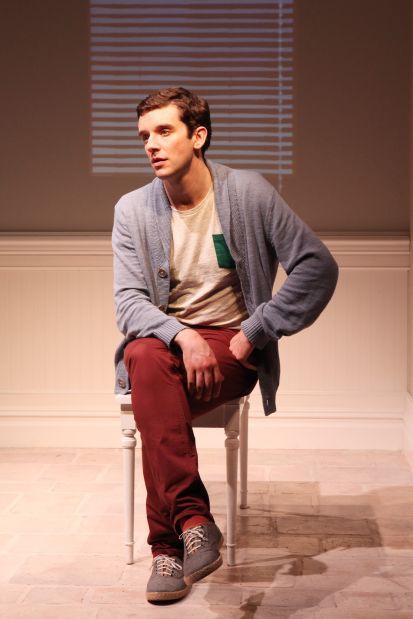 Even stories steeped in fiction, folded around a few fine points of truth, can produce very poignant life lessons.
Actor Michael Urie, the young actor known to audiences from the ABC TV series "Ugly Betty," proves this and so much more, while offering audiences an hour and 45 minutes of pure entertainment, in the hit one-man show "Buyer & Cellar."
Presented by Broadway In Chicago and playing until June 15 at Broadway Playhouse at Water Tower Place in Chicago, Urie commands the stage and delivers this funny, high-camp, imaginative romp in a casual and confident style in a conversational manner that makes every audience member feel like he or she is his best friend.
Without the need for countless props, vast set or scenery, any costume changes or a plethora of projections and video, it is Urie alone on stage who seamlessly morphs in and out of character with ease and distinction for each voice and identity.
He has the gift of not only the acting craft, but also as a masterful storyteller able to punctuate with humor and emotion.
His primary character is Alex More, a struggling actor from Wisconsin who has moved to Los Angeles in hope of launching a successful career. While so many actors and actress often supplement their finances with side careers waiting tables and catering, Alex attempts as "amusement theme park cast characters" haven't gone so well, thus making him rely on retail positions while waiting for his "big break."
So when a pal tells him of an opening in Malibu working for a rich and famous somebody, he decides to accept the adventure, which turns out as the chance to work with Barbra Streisand, who is in need of a shopkeeper/curator for the private shopping mall streetscape in the basement of her home used to house her collections under the clever guise of storefront retail displays. (The part about this private mall space in her Malibu home is a true fact, as detailed in Barbra's own penned and photographed 295-page 2010 coffee table book "My Passion for Design" by Viking Press.)
Talented Urie eases in and out of persona portraying the names and faces his character Alex encounters, from Barbra and hubby James Brolin to Sharon, the estate's staff manager and boyfriend Barry.
By the end of the stage story, Urie and playwright Jonathan Tolins offer insight not only about happiness and the price tag of reality but also lessons about friendship and the fleeting need for fame and recognition by others. Though there's some room to trim about 10 minutes of the performance to keep momentum rolling (and give ball of energy Urie some breathing room), this production is a rare opportunity for a fresh and inviting stage celebration of life lessons that even luminaries can learn from.
Performances are 7:30 p.m. Tuesdays through Fridays (with an additional 2 p.m. Wednesday performance May 28) and 2 and 8 p.m. Saturdays and 2 and 6 p.m. Sundays with no 6 p.m. performance June 1).
The opinions expressed are solely those of the writer. He can be reached at philip.potempa@nwi.com or (219) 852-4327.