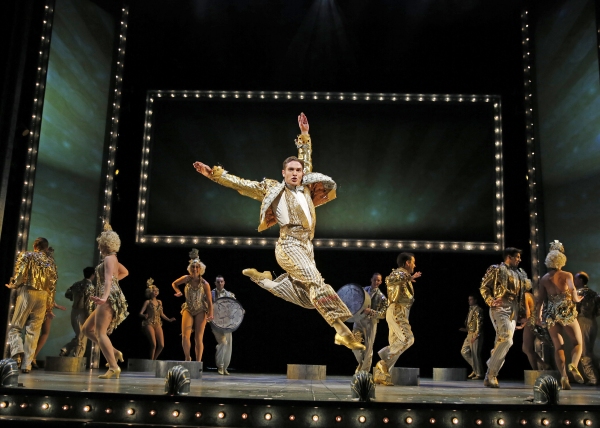 In April 2010, I began a column review with: "It's been a long while since any of the regional theaters have produced a run of the musical '42nd Street.'"
OK, nearly four years later, strike that thought.
At the time of that writing, Theatre at the Center in Munster had last included it in its 2001 season a decade ago and Broadway in Chicago had hosted the national Broadway tour at the Oriental Theatre in 2002.
But that previous written prose was in regards to a performance at Marriott Lincolnshire Theatre, which received a glowing review in every way.
A year later, in September 2012, Theatre at the Center in Munster produced its own run of "42nd Street," which also knocked my socks off.
And now, we welcome 2014 with a new production of "42nd Street," playing now until Feb. 9 at Paramount Theatre in Aurora. This latest turn is a heart-pounding, entertaining and energetic stage spectacular that brings together all the best offerings of the two previously described Broadway bravos with both new and familiar faces wrapped around new sets, fresh staging and re-imagined costuming.
Broadway's "42nd Street" won the Tony Award for Best Musical and Choreography in 1980, and two decades later, the Tony Award for Best Revival in 2001.
Paramount secured the same leadership from the Marriott's run and much of the same lead casting, with Jeff Award winners Rachel Rockwell teamed as director once again with exciting choreography by Jeff Award winner Tammy Mader. And yes, just like in 2010 at Marriott, the musical score is brought to life once again with love and emotion by musical director Doug Peck.
There's a reason "42nd Street" still ranks as one of the longest-running musicals in Broadway history. Even though it was not brought to the stage until 1980, the story has been around since it was first introduced to audiences on the big screen back in 1933 by Busby Berkeley. Starring Ginger Rogers, Ruby Keeler and Dick Powell, it's often referred to as "the film that saved Warner Brothers studios from bankruptcy."
Set during the Depression in New York, "42nd Street" tells the story of a starry-eyed young actress named Peggy Sawyer, played with plenty of pep by the beautiful and talented Laura Savage, who leaves her small-town home for a chance to audition for the new Julian Marsh musical about to open on Broadway.
For this Marsh, the show biz wiz used to getting his way, we get a powerhouse performance by Larry Adams, who personified the role for the Theatre at the Center run in 2012.
Once again adding vinegar to this showbiz salad is the leading lady character, the established and demanding Dorothy Brock, played perfectly here again by Catherine Lord, who did the same role for Marriott in 2010.
With a book by Michael Stewart and Mark Bramble, music by Harry Warren and lyrics by Al Dubin, the memorable score includes "We're in the Money," "You're Getting to be a Habit With Me," "Lullaby of Broadway" and, of course, "42nd Street."
Nancy Voigts delivers a priceless performance as funny and likeable Maggie Jones. Michael Weber is her song-writing partner Bert Barry, while Roger Mueller is character actor extraordinaire as wealthy southern businessman Abner Dillon. Yep, they are all reprising the same roles they did at Marriott in 2010.
Likeable Amy Orman is also back as Phyllis, the role she did for the 2012 Munster production.
But this new run offers a showcase of this favorite musical in a traditional stage setting, unlike doing this show in a "theater in the round" setting as at Marriott or even the more audience surrounding the stage venue that is Theatre at the Center. It has a wonderful set design by Kevin Depint and eye-popping costume design by Theresa Ham.
And the freshest and best element boasted in this latest offing is triple-threat superb singer, actor and dancer Tyler Hanes, as romantic lead Billy Lawlor. If you've missing any of these previous incarnations, here's the chance (and ticket) of a lifetime.
Tickets are $36.90 to $49.90, with senior, group and student discounts available. FYI: (630) 896-6666 or paramountaurora.com.
The opinions expressed are solely those of the writer. He can be reached at philip.potempa@nwi.com or 219.852.4327.
Stay up-to-date on what's happening
Receive the latest in local entertainment news in your inbox weekly!