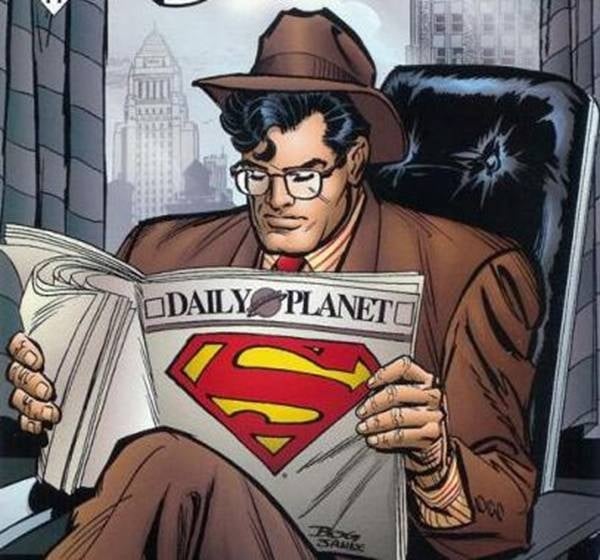 It's hard to imagine, but Clark Kent, long the fictional poster image for newspaper reporters, has quit his position at The Daily Planet newspaper in the latest issue of the comic book.
Despite his horned-rim framed eyeglasses as a flimsy disguise, it always made sense why working as a newspaper reporter was the perfect "secret identity" for the Man of Steel, since working at the largest daily newspaper in Metropolis allowed the superhero the chance to hear about crime as soon as it was happening as "breaking news."
Way back in 1992, Superman co-creator Joe Shuster told The Toronto Star that the name "Clark Kent" derived "from 1930's cinematic leading men Clark Gable and Kent Taylor, but the persona [came] from bespectacled silent film comic Harold Lloyd and himself."
Remember, Clark Kent and Superman have been around since their first appearance in Action Comics No. 1, launched in June 1938 by Shuster with Jerry Siegel, who died in 1996 at age 81.
But here's how CNN is reporting the news, according to the cable news network's reporter Catherine E. Shoichet: "Add Superman to the list of reporters leaving the newspaper business behind."
"In the comic book series' latest issue, which went on sale Wednesday, Oct. 24, an outraged Clark Kent quits his job at The Daily Planet after his boss berates him," Shoichet reports.
As for how the exchange unfolds in the issue of Superman No. 13, here's what Kent says during his huff before departing: "I was taught to believe you could use words to change the course of rivers — that even the darkest secrets would fall under the harsh light of the sun. But facts have been replaced by opinions. Information has been replaced by entertainment. Reporters have become stenographers. I can't be the only one who's sick of what passes for the news today."
Of course, the character of Superman has also died in previous issues of this comic book over the decades, and come back to life. I'm guessing Superman and Clark Kent will return to his reporting gig in the future. Just because there aren't many telephone booths left these days for Clark Kent to make his "quick change" for his cape, doesn't mean newspapers don't need good reporters.
The Rev. Anthony Tyler, senior pastor at Higher Ground Community Church in Calumet City, sang as part of a choir backing up Barbra Streisand at her concert at the United Center a week ago.
And I'm also told YES, while in Chicago, Babs DID slip in at the Goodman Theatre to catch her daughter-in-law in the starring role in Tennessee Williams' "Sweet Bird of Youth." She was at the Thursday, Oct. 25, performance, the day after Lane had to cancel two performances on Wednesday, Oct. 24, because of laryngitis. In 2004, Lane, who is now 47, married Josh Brolin, who is 44. Streisand, 70, has been married to Josh's father, actor James Brolin, 72, since 1998. Lane completed the run of "Sweet Bird of Youth," which closed last Sunday.
The opinions expressed are solely those of the writer. He can be reached at philip.potempa@nwi.com or (219) 852-4327.