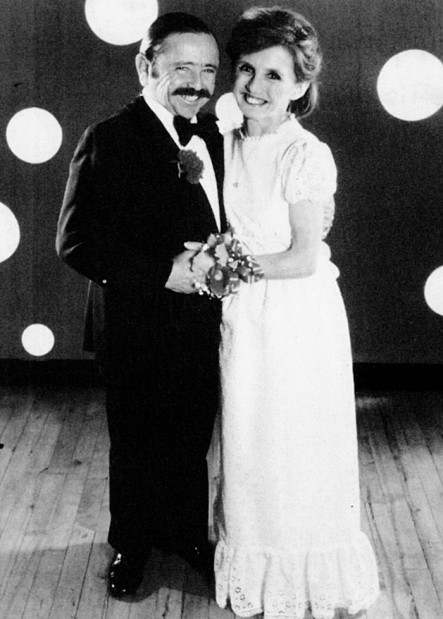 With her bright red hair and Coke-bottle-thick glasses, Elizabeth Maren always was easy to spot at any of the annual Wizard of Oz Festival in Chesterton each year.
But she also always identified herself as "a Munchkin by marriage," preferring to let husband Jerry Maren have most of the spotlight because of his starring role in the legendary 1939 film "The Wizard of Oz."
Elizabeth, 69, died early Thursday morning at a hospital in Los Angeles after what was a brief bout with cancer.
She was always at husband Jerry's side, all smiles and listening intently as he entertained fans with his stories of working with Judy Garland while playing his role as the middle Munchkin member of the Lollipop Guild who presents Dorothy with a large spiral-striped lollipop upon her arrival to the Land of Oz.
She not only attended September's 2010 festival with husband, but the couple also flew back to Chicago in November for an appearance at Hollywood Boulevard Cinema in Woodridge, Ill., to host a weekend of "The Wizard of Oz" screenings.
It was in 1973 when the couple first met and they were married two years later in Las Vegas. At the time of their first introduction, Elizabeth Barrington was working as a data processor in Florida and the two struck up their first conversation at a meeting of the organization Little People of America.
After meeting, Jerry, who had a long list of credits in the movie, television and entertainment industry, Elizabeth also began working in the movie and TV field, including appearances on "The Gong Show," (along with hubby Jerry) as well as doing stunt double work for McDonald's commercials, appearing as some of the costumed characters, and even appearing on a Barry Manilow's TV specials in the 1970s.
She also appeared in films like "Under the Rainbow" (1981) and "The Dreamer of Oz" (1990) and even the scary film "House" in 1986.
But much of her work came from her stunt double work filling in for children during movie scenes in major films like "Dennis the Menace" (1987), "The Golden Child" (1986) and "The Great Outdoors" (1988).
She even got to play the famed role of Little Orphan Annie (well sort of) in the 1982 big screen musical film version of "Annie" starring Aileen Quinn as the legendary little redhead opposite Carol Burnett as mean Miss Hannigan. For all of those dangerous scenes when Annie is about to be thrown off a bridge, it was little Elizabeth in the curly red wig playing Annie's stunt double.
But Elizabeth was easily recognizable as herself, in a role she did very well, playing the wife of her real husband Jerry on the now infamous episode of the NBC series "Seinfeld," which also was the same 1997 episode that introduced the world to the expression "Yada, Yada, Yada." She and Jerry played the "little people" parents to a very shocked Kramer who was dating their very tall daughter.
According to her family, she is also survived by two sisters, Cheyrl White of Greenville, Mich.; Linda (Mark) Wooden of Pierson, Mich.; and five brothers, Michael (Susan) Barrington of Forsyth, Ga.; Tony Barrington of Sarasota, Fla.; Stephen Barrington, Scott Barrington and Joey Barrington, all of Chickasaw, Ala.
Jerry Maren, who turned 91, on Jan. 24, is one of only four surviving "Munchkins" from the 1939 film.
A private visitation was held Sunday in Los Angeles and a memorial service is being held today at Forest Lawn Cemetery in Los Angeles.
The opinions expressed are solely those of the writer. He can be reached at philip.potempa@nwi.com or 219.852.4327.