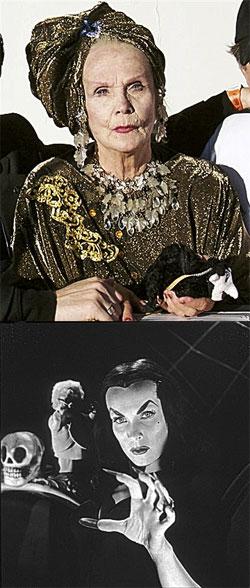 Very few people these days remember the name Vampira.
And even fewer people, unless you're a true movie buff, know the name Maila Nurmi, the actress who portrayed the TV character with a cult following in the 1950s.
Nurmi died one week ago today, although reports of her death at age 85 just hit the news wires this week.
The rather reclusive Nurmi was found dead in her Hollywood home, a small apartment, according the Los Angeles County coroner's office.
The cause of death has not been released, and the actress had no known family. Funeral arrangements are pending.
What is most amazing about Nurmi's career is that when she made the trek to Hollywood (originally from Finland and then transplanted to Ohio with her family), she was a young unknown starlet looking for work.
As luck would have it, she found work very quickly.
But as unluck would have it, the work she found in 1954 was for a role no other actress or model-wanna-be would touch: wearing garish make-up and a long black wig as an alter-ego named "Vampira," hosting low-budget horror movie screenings, broadcast on Los Angeles's local television station KABC TV.
As a hopeful star, this was a gig that not only didn't portray her in a the best light (no pun intended), it also erased her own identity.
Before long, her trademarks became her long black tresses, ghostly white make-up, painted-on arched eyebrows, long black nails and form-fitting black dress, with a tiny cinched waist.
Even more amazing is the reality that her program, "The Vampira Show," only lasted a year, while her new "larger than unlife" character continued to live on, something she always considered a blessing and a curse.
When she couldn't find work, she reluctantly accepted an offer from a fan, a then-obscure would-be film director named Ed Wood, who had her star as her popular character opposite the great Bela Lugosi in his last film, the awful 1959 cult classic, "Plan 9 From Outer Space."
Character actress Lisa Marie eventually played Nurmi in the popular 1994 Johnny Depp film "Ed Wood," directed by Tim Burton.
I never had the chance to meet Nurmi, but I did chat with her by telephone a few years ago and she mailed me a classic black-and-white publicity photo of herself, which I still display every Halloween. It's from the 1950s and she's in full Vampira garb and make-up, holding a large carved Jack-o-lantern while pouring a large, clearly labeled bottle of poison into the pumpkin..
Her last time making news headlines was in 1989, when she lost a $10 million lawsuit against actress Cassandra Peterson aka late-night TV horror hostess Elvira, alleging she pirated her Vampira character.
Her Associated Press obituary this week included her argument.
"There is no Elvira. There's only a pirated Vampira," she was quoted as saying in an Associated Press story at the time.
"Cassandra Peterson slavishly copied my product and made a fortune. America has been duped."
I've interviewed Peterson aka Elvira a few times and asked her about Nurmi's claim.
She told me her character Elvira was born from "several scraps of paper thrown into a hat by the television station crews who came up with name suggestions."
"The name 'Vampira' was the popular draw, but when the television station creating my show and myself went to register it, we found it was already held by an actress named Nurmi Maila, who wore this female vampire costume and hosted a local horror movie show in L.A. in the 1950s," Peterson said.
Peterson said Maila, who also was famous for having dated teen idol James Dean, met with Peterson and agreed to give permission for the name use.
However, she said when Maila's lawyer submitted a contract and the fee, Peterson said it "asked for an outrageous" amount.
"To make a long story short, we came up with our own name, and she brought the lawsuit against us that was later thrown out," Peterson said.
The opinions expressed are solely those of the writer. He can be reached at ppotempa@nwitimes.com or 219.852.4327.
Actress Betty White is 86. Actress-singer Eartha Kitt is 81. Stylist Vidal Sassoon is 80. Actor James Earl Jones is 77. Talk show host Maury Povich is 69. Boxer Muhammad Ali is 66. Westerns actor Randy Boone is 65. Singer William Hart of The Delfonics is 63. Former Rolling Stones guitarist Mick Taylor is 60. Singer Sheila Hutchinson of The Emotions is 55. Singer Steve Earle is 53. Singer Paul Young is 52. Actor-comedian Steve Harvey is 51. Singer Susanna Hoffs of The Bangles is 49. Actor Jim Carrey is 46. Actor Joshua Malina ("The West Wing," "Sports Night") and singer Shabba Ranks are 42. Actor Naveen Andrews ("Lost") is 39. Musician Kid Rock is 37. Actor Freddy Rodriguez ("Six Feet Under") is 33. Actress Zooey Deschanel ("Elf," "The Good Girl") is 28. Singer Ray J is 27. Country singer Amanda Wilkinson of The