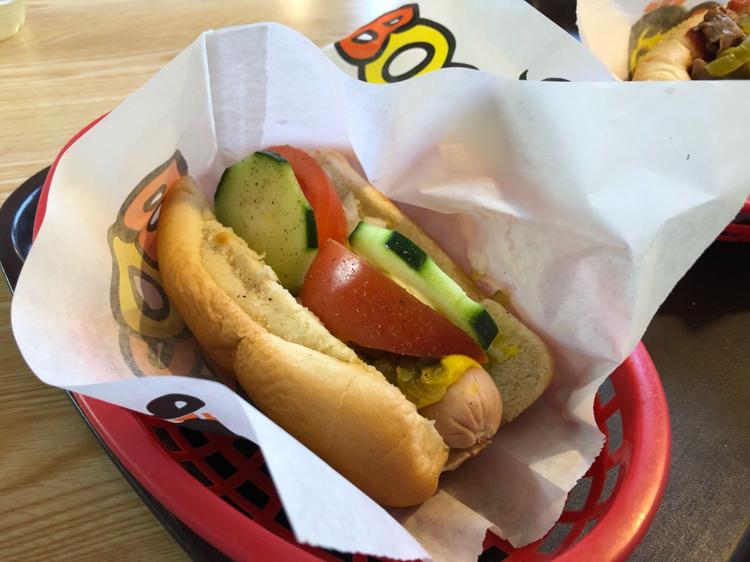 Hot dog fans in the Region have frequented Boz Hot Dogs for decades.
The hot dog joint got its start in 1969 in Dolton where it stood at 142nd Street and Cottage Grove Avenue.
Boz Hot Dogs on Ridge Road in Lansing has a casual setting which is also retro-inspired as it sports old-fashioned decor and signage. Northwest Indiana residents also will find a smaller Boz on Sheffield Avenue in Dyer.
During a recent stop at the Lansing Boz, we felt as though we'd taken a journey back in time. Customers walk up to the counter to order and then can take their food to a table or booth on the premises to dine in.
While we dined in the restaurant, there were quite a few people visiting the eatery to carry out their food. Retro tunes played on the radio in the restaurant as we dined. It definitely felt like a throw-back to high school days where "good fast" food such as hot dogs, cheesy fries, onion rings and chili cheese dogs were a favorite.
Our dinner choices that evening were the Boz Hot Dog ($2.60) and the Italian Beef Sandwich ($6.25), which I had heard good things about. The hot dog had all the fixings of a Chicago dog and got a thumbs up from us. All hot dogs come up mustard, relish, onions, tomatoes, cucumbers and hot or mild peppers. Other ingredients, such as celery salt, hot giardiniera, lettuce, sauerkraut and other items, are available.
The Italian Beef Sandwich featured tender roast beef and a flavorful, sweet Marinara sauce. Green peppers were also plentiful in the sandwich.
Boz' menu also stars Bratwurst ($3.65); Italian Sausage ($4.55); BBQ Beef ($6.25); Pizza Bread ($2.25); Egg Salad ($3.39); Nachos ($3.35); Chili Boat with Cheese ($3.55); and more.
The restaurant has a variety of regular combos as well as daily specials.
Stay up-to-date on what's happening
Receive the latest in local entertainment news in your inbox weekly!