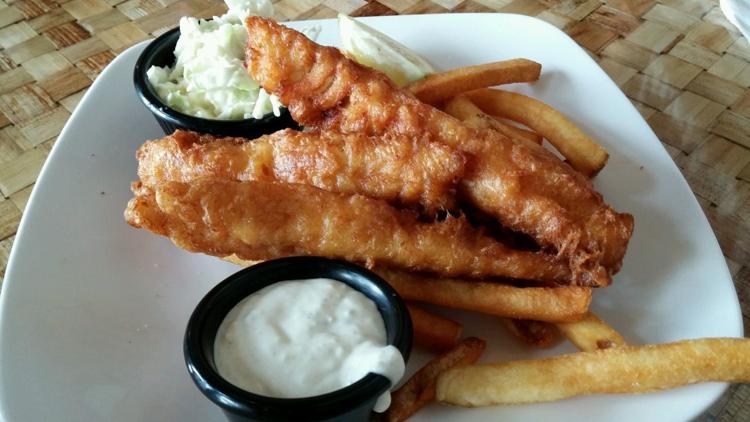 If you're shopping at the Bass Pro Shop in Portage, you can make time to enjoy a meal at the eatery on the store's premises.
The World Famous Islamorada Fish Co. Restaurant features a menu of everything from seafood and salad to sandwiches, tacos, burgers, pasta and other items.
The restaurant, situated on one side of the massive store, has an appealing nautical theme. As you walk in, you'll easily feel as though you're stopping for lunch or dinner at an island eatery.
The name Islamorada means "Purple Isle." Near the entrance of the restaurant, and located in the bar, is a 13,000-gallon saltwater fish tank, which is fascinating to see.
In the bar, lighting is a bit dim, but if you'd like a brighter spot to eat your meal, choose the back dining area. That room is lighter and features fish and other beach/nautical decor on the walls.
You have free articles remaining.
Keep reading for FREE!
Enjoy more articles by signing up or logging in. No credit card required.
At Islamorada, the menu, which is changed periodically, offers a good mix of items. Among the popular offerings are Uncle Buck's Fish and Chips ($13.50); New England Clam Chowder ($4 for a cup; $6 for a bowl); Fish Tacos ($13.50); The Tournament Burger ($11), which features double stacked Angus beef patties, smoked bacon and American cheese; and Shrimp Alfredo ($15.25).
Among other dishes to enjoy at the restaurant are Cajun Catfish ($14.25); Honey Sriracha Salmon ($20.50); Ribeye ($24); Brisket Sandwich ($11); Cobb Salad ($8.25); and more.
If you crave a burger, there are a variety to choose from including the Wild Boar Burger ($15); Steakhouse Burger ($12); and Western Barbecue Burger ($13).
Starters on the Islamorada menu include Alligator ($13.75), which is a spicy hand-breaded creation with sweet jalapeno cream sauce; Salt and Pepper Calamari ($10.25); Soft Bavarian Pretzels ($6.50); and Brisket Nachos ($8.50).
There also are various specials at the restaurant on a daily and weekly basis. Call the eatery for more information.